August's species of the month: Bastard Toadflax, Thesium humifusum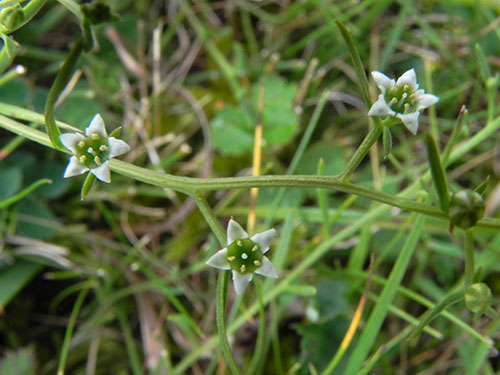 Thesium humifusum, Arundel Photo: Nick Sturt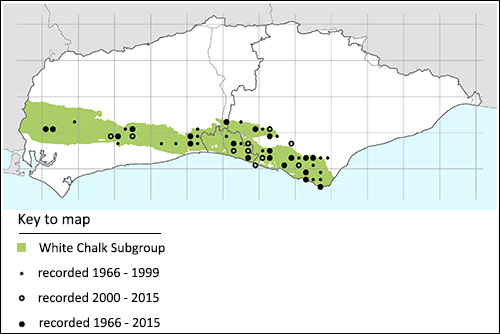 Map of Thesium humifusum records in Sussex, distribution being entirely restricted to downland chalk.
Source: The Flora of Sussex
In Sussex, this species is confined to short chalk grassland and is always a sign of quality. In other counties it can also occur in limestone areas and very occasionally on sand dunes. There can never be enough records, for although the map in The Flora of Sussex (2018) indicates a reasonably healthy situation, its restricted preference for well-grazed, good quality chalk turf and the vulnerability of that habitat in the long run, mean that the more sites we know about, and the more information we have about population sizes, the better. It would also be good to find more sites in West Sussex, where it seems genuinely to be a lot rarer.
Given its prostrate habit, slender stems and narrow leaves (as little as 8mm long by 1mm wide), realistically, this is a plant you are only likely to spot when it is in flower - any time from June to August, probably peaking in July. The flowers are bisexual with a width of 2 to 4mm; the five white triangular 'petals' are actually petaloid sepals (sepal-green on the outside), and the three 'sepals' at the base of each flower are actually bracts. The leaves are somewhat toadflax (Linaria)-like, if you use your imagination, and this undoubtedly accounts for the plant's unflattering English name. Like many diminutive herbs with reduced leaves occurring on nutrient-poor chalk turf, Thesium obtains some of its sustenance by parasitising the root systems of other chalk grass plant species.
Molecular studies require that the dioecious mistletoe (Viscum album) join Thesium in the Family Santalaceae. While this might seem surprising, at certain times and from certain angles, Thesium can look almost twiggy, and the narrow, alternate, yellow-green leaves arising from the stem at right angles can look slightly leathery and resemble those of the very familiar and much larger semi-parasite of woody plants to a surprising degree.
I hope you have the pleasure of finding this delightful plant for yourself and as a possible bonus, when you do, there is a good chance that it will be in a new site. All records should be sent to m.berry15100@btinternet.com.
While you're at it...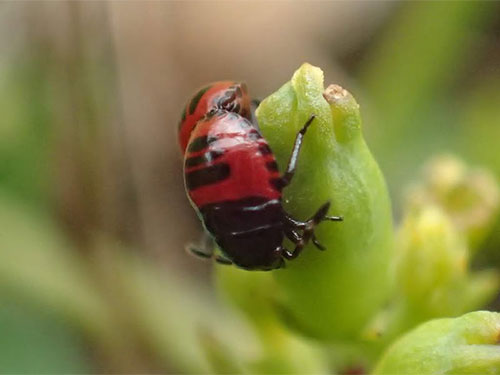 The distinctive red and black nymphs of Canthophorus impressus that should be looked out for on Bastard Toadflax
Photo: Graeme Lyons
If you do find Bastard Toadflax it's well worth checking the plant and its vicinity for the distinctive, red and black nymphs of the nationally scarce Bastard-Toadflax Bug (
Canthophorus impressus
) that might be feeding on it. The adults are about 6-7mm in length and deep blue with a white border to the pronotum and connexivum but are active in the spring and autumn. If you look at the
Atlas of Sussex Shieldbugs
you will see that there are very few records of the species in Sussex with most of the recent ones being from Southerham. However, wherever this rare plant is found
C. impressus
will possibly be present too and records of the species would be particularly welcome - if you do find it please record the details of your sighting (ideally with photographs) on
iRecord
.
Previous species of the month:
Every month it is our aim to highlight a species that is "in-season" and, although not necessarily rare or difficult to identify, has been highlighted by our local recording groups as being somewhat under-recorded and for which new records would therefore be welcomed.
If you or your recording group are aware of species such as this then please contact Bob Foreman.