July's species of the month: Large Scabious Mining Bee Andrena hattorfiana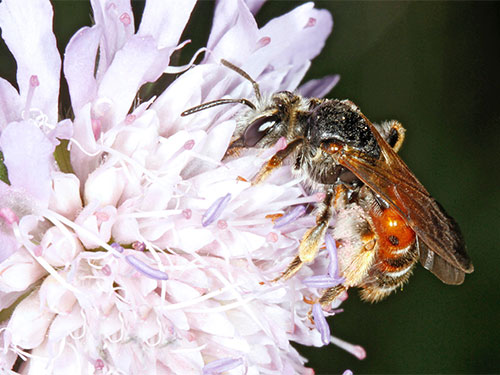 Female Andrena hattorfiana (red form)
Photo: Jeremy Early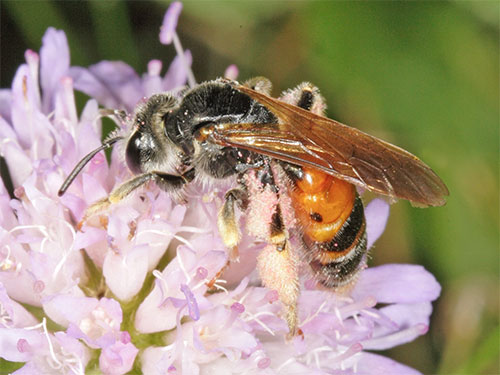 Female Andrena hattorfiana (red form)
Photo: Jeremy Early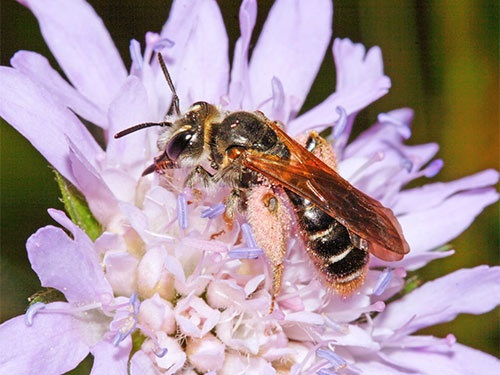 Female Andrena hattorfiana (normal form), with distinctive pollen attached
Photo: Jeremy Early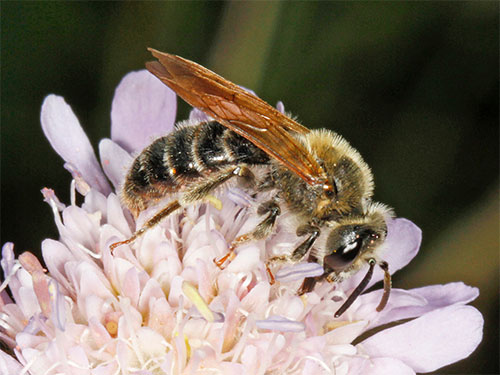 Male Andrena hattorfiana
Photo: Jeremy Early
Map showing distribution of Andrena hattorfiana records in Sussex. Although predominantly on chalk grassland other dry grassland sites are used.
Fully laden with a bright pink pollen load and sat atop a scabious flower, the females of this scarce mining bee shouldn't be hard to miss - the combination of a pale blue flower and a large bee with pink pollen sitting on top is pretty striking!
Except that there are fewer than 60 records for this species in Sussex - at best, just a handful of sightings are reported either to the Bees Wasps and Ants Recording Society or to the Records Centre in any one year. Most of these are concentrated on the Downs between Woodingdean in the west and Beachy Head in the east, although odd sightings have been recorded as far afield as Petworth and Rye Harbour. The earliest record for Sussex is from 1904.
In Britain, it's a southern species, its range extending from the north Norfolk coast in a south westerly band to the north Cornwall coast. Salisbury Plain in Wiltshire supports what is probably the most substantial population in the country. In Sussex, it is a species principally of chalk grassland although across its range dry, sandy grasslands are also used. There's even a good sized colony in a cemetery in Norwich.
It nests in the ground, in areas that are hidden by low vegetation. Unlike many of the other species of mining bee, this species doesn't generally form large nesting aggregations - its nests tend to occur singly or in small thinly scattered groups, adding to the challenge of locating it.
Each chamber within the burrow is provisioned with a small ball of pollen, on which an egg is laid. The females forage for pollen almost exclusively from Field Scabious Knautia arvensis and Small Scabious Scabiosa columbaria flowers although Knapweeds Centaurea spp. are also used - it's the Field Scabious pollen that gives females their striking pink colouration.
It shares this close relationship with scabious flowers with one other species of mining bee, Andrena marginata. This species has also become scarce across Britain and Europe in recent decades, in both cases largely because of the loss of scabious-rich chalk grasslands. Field Scabious, for example, is not very tolerant of grazing and tends to thrive in ungrazed scrubby margins, areas that can readily disappear under a thicket of scrub.
With scabious plants now flowering across the Downs, this is the perfect time of year to search for this rare and elusive bee - just check each scabious flower head that you come across for a bee. If you find one in residence and it's slightly larger than a honeybee, has a shining black abdomen (sometimes with some red banding) and bright orange hairs at the tip, then you've probably located a female Andrena hattorfiana, especially if she's also laden with bright pink pollen.
Alternatively, if it's a little smaller, has a white face, but is otherwise as above (shiny black abdomen - but sometimes red-marked - and with orange hairs at the tip), you've found a male.
Anywhere with a Field or Small Scabious in flower is worth a look, and a record supported by a photograph will help confirm identification. Good luck!
Please send the details of any sightings of Large Scabious Mining Bee either directly to bobforeman@sussexwt.org.uk at the SxBRC or enter them on iRecord.
James Power, Sussex Bees and Wasps Recording Group
Previous species of the month:
Every month it is our aim to highlight a species that is "in-season" and, although not necessarily rare or difficult to identify, has been highlighted by our local recording groups as being somewhat under-recorded and for which new records would therefore be welcomed.
If you or your recording group are aware of species such as this then please contact Bob Foreman.