September's species of the month: Hawfinch, Coccothraustes coccothraustes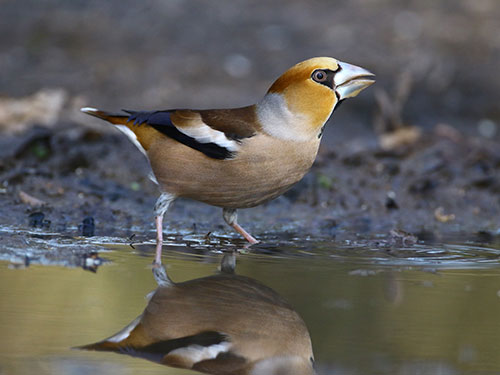 Male Hawfinch drinking
Photo: Lee Fuller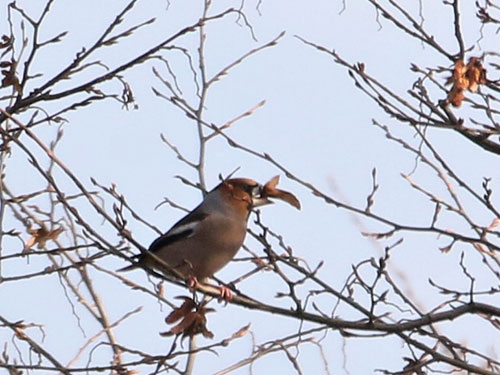 Hawfinch extracting Hornbeam seed from bract
Photo: Mark Mallalieu
The Hawfinch is one of the most difficult birds to see in Sussex. In the breeding season, it is so sparsely distributed and cryptic in its behaviour that very few are observed each year. Between 1998 and 2018, there were no instances of confirmed breeding. Indeed, they were recorded in the breeding season in only six tetrads in the county Bird Atlas 2007-11. The UK range and population has reduced sharply in recent decades and fewer than 1000 pairs may now breed.
In most years, there is only a slightly higher chance of finding Hawfinches between autumn and early spring, with Westdean Woods being the site favoured by birdwatchers. However, the 2017/18 winter saw an extraordinary influx of thousands of Hawfinches from northern and eastern Europe, probably driven to the UK by a combination of food shortages and freak weather. Large numbers were found in Sussex, giving a once in a lifetime opportunity to see flocks of this remarkable bird. Hawfinches are large, short-tailed finches, overlapping in weight with Redwing
Turdus iliacus
and twice as heavy as a Chaffinch
Fringilla coelebs
. They have massive bills as well as big heads and necks that hold the muscles needed to crack the seeds and stones of their favourite foods. The plumage is a mix of lovely honey-browns, chestnut, pinkish-browns, black, white and blue-purple gloss on some of the flight feathers. Males are somewhat brighter in appearance than females with richer tones on the head. Females have ash-grey panels on the secondaries. The bill is blueish in the breeding season and pale off-white in winter. In the field their size, shape and the white bars on the wings make Hawfinches relatively easy to identify given reasonable views. The hard "tzik" call is also a good clue, once learned. The 2017/18 influx provided an opportunity to study Hawfinch behaviour and food preferences in Sussex. From October to early or mid-January, the food of choice was Hornbeam
Carpinus betulus
seed. My (incomplete) searches suggest that Hornbeam is most common in the east Sussex Weald, especially northwest and northeast of Battle and to some extent west to Burgess Hill and Lindfield as well as in the north of the county around Faygate to Ifold. It is certainly less common in much of the west of Sussex as shown by the map in the Sussex Flora. In addition, Field Maple
Acer campestre
fruits are sought after and I observed Hawfinches alternating between the two foods when both trees were growing together. The seeds of Yew
Taxus baccata
are also taken and in the 2017/18 influx, Hawfinches were found in Yew woodland, e.g. at Sherwood Rough near Arundel, from the start of the influx. Most Field Maple seed was exhausted by the end of 2017 and Hornbeam seed soon after. By March 2018, the large concentrations were in Yew woods, with Kingley Vale holding a remarkable 400 birds. Some large roosts were found in the late winter and early spring, most containing over 100 individuals. All were in conifers such as spruce, mixed with a few broadleaves. Pines were not used. Birds left the roosts in flocks in the few minutes before and after sunrise, but arrived back over a much longer period in the afternoon in smaller groups typically in the 2-3 hours before sunset. Perhaps the most remarkable finding was that hardly any Hawfinches were ever seen within 100km
2
of the large roosts, suggesting that there is much still to learn about feeding strategies. In particular, the stones of Cherry trees are much favoured by Hawfinches and Wild Cherry
Prunus avium
is a widespread tree in Sussex, so it is very likely that Hawfinches sought out these trees. Hawfinches take a wide range of other food including mast from Beech
Fagus sylvatica
and seeds of Hawthorn
Crataegus monogyna
, from which they get their name. The studies during the 2017/18 influx led to the discovery of a new site where Hawfinches can be found in winter, along Penhurst Lane near Netherfield where up to 32 were recorded last winter. Even more exciting, fieldwork this year inspired by learning during the influx confirmed that Hawfinches are present in summer at all the three best winter sites: Westdean Woods, Arundel, and Penhurst Lane and juveniles were seen at the last two, so confirming breeding after a gap of 20 years. If you would like to find Hawfinches, I recommend searching fruiting Hornbeams in autumn and early winter and Yews throughout the winter, including in Churchyards that have ancient female trees (Slaugham and Fletching Churches were good sites in 2017/18, for example). Look out for birds perching conspicuously on treetops or flying fast overhead. Early morning and mid-afternoon are the times to find Hawfinches gathering at or leaving roosts. If you would like to learn more, a paper on the 2017/18 influx will appear in the 2019 Sussex Bird Report, and please contact me if you would like to help with fieldwork or know where the nearest potentially suitable sites are to where you live.
Mark Mallalieu
Recorder@sos.org.uk
Previous species of the month:
Every month it is our aim to highlight a species that is "in-season" and, although not necessarily rare or difficult to identify, has been highlighted by our local recording groups as being somewhat under-recorded and for which new records would therefore be welcomed.
If you or your recording group are aware of species such as this then please contact Bob Foreman.