Welcome to the Sussex Biodiversity Record Centre
Welcome to the website of the Sussex Biodiversity Record Centre, one of the many local environmental record centres situated around the UK. We provide environmental information services encompassing biodiversity, geodiversity and other aspects of Sussex's natural capital. We cover the two counties of East and West Sussex, including Brighton & Hove, in South East England. We are a small but dedicated team of environmental data managers, naturalists and IT specialists.
The Sussex Biodiversity Record Centre is managed as a partnership project, hosted by the Sussex Wildlife Trust. Our partners include local planning authorities, government agencies, conservation bodies and other organisations which need access to up-to-date biodiversity information, such as water companies.
Sussex has a vibrant and energetic biological recording community with many independent recording groups and societies. By strengthening relationships with these groups, and the wider network of naturalists, ecologists and recording schemes active in Sussex, the Record Centre facilitates sharing of ever-greater amounts of biodiversity data.
Latest news
Join us for the Sussex Biological Recorders' Summer Get-together 2022!
17 June 2022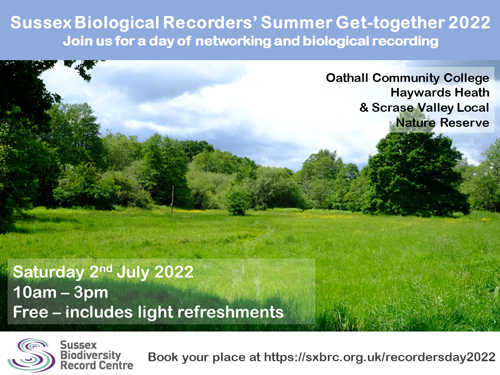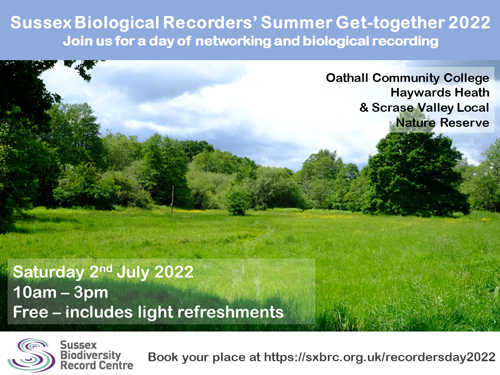 On Saturday 2nd July, Sussex Biodiversity Record Centre invites you to join on a day of networking, socialising and biological recording at Oathall Community College, Hayward Heath. You are invited to bring display boards for your group, or just come along and meet with your fellow Sussex recorders and SxBRC staff for refreshments and a chat, and then walk to nearby Scrase Valley Local Nature Reserve for an afternoon of recording.
This event is free. Please book a place through eventbrite, where there is the option to request a stall for your organisation.
Order of the day
10:00 - 12:30 Meet at Oathall Community College for refreshments and chat
12:30 - 13:00 Butterfly and plant walk with Bob Foreman and Dan Watkins
13:30 - 14:00 Nature Reserve walk with Becky Walton
12:30 - 15:00 Informal recording throughout the afternoon
15:00 - 15:30 Return and clear hall (the hall will be open and monitored all day for bag storage and bathroom use)

Please bring your own packed lunch.
If you have any questions about the day, please email loismayhew@sussexwt.org.uk
We hope you'll join us!