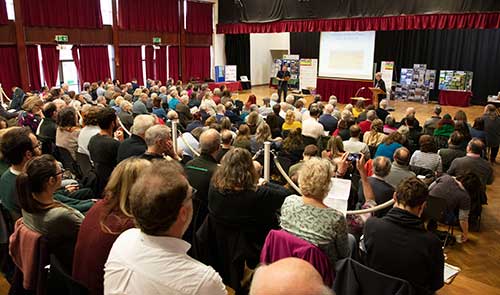 A full crowd, with over 250 people in attendance at the 2018 Seminar
Photo: © Graham Franks / Sussex Biodiversity Record Centre
The Sussex Biological Recorders' Seminar is an annual event which takes place in early February each year. More than 250 recorders from Sussex and surrounding areas come together to enjoy a day of talks about biological recording from a local and national perspective. Attendees are from a broad range, from budding enthusiasts to seasoned recorders. It's a great opportunity for people to learn about each other's work, discuss arising issues within the biological recording community and get inspired by the amazing efforts of others.
As well as talks, we also invite groups and recording schemes to bring a display and showcase their work around the hall, where you may find books and identification guides for sale. This is a great way to get involved with local community groups and network with other recording groups. There are also updates on atlas projects from Sussex recording groups and a 15 minute slot for anyone to advertise projects and initiatives to attendees after lunch.
The seminar has been running since 1989 and talks from previous years have included bees and wasps of the East Sussex Downs, Sussex fish and the reintroduction of the Tiger Heath Beetle at Iping Common. The programme for talks is finalised in October each year, if you have a suggestion then please get in touch with us.
If you would like to attend the next Sussex Biological Recorders' Seminar please contact us for details when bookings open. We regret that due to the popularity of this event you will need to book in advance and we cannot admit people on the door.
Getting to the seminar:
The seminar has been held at Oathall Community College, Haywards Heath since February 2017.
Address:
Oathall Community College
Appledore Gardens
Lindfield
West Sussex
RH16 2AQ

There is plenty of parking at the venue, or it is a 15 minute walk from Haywards Heath train station. The nearest bus stop is Summerhill Lane.