Species of the month
Every month it is our aim to highlight a species that is "in-season" and, although not necessarily rare or difficult to identify, has been highlighted by our local recording groups as being somewhat under-recorded and for which new records would therefore be welcomed.
If you or your recording group are aware of species such as this then please contact
Bob Foreman
.
March: Sarcoscypha austriaca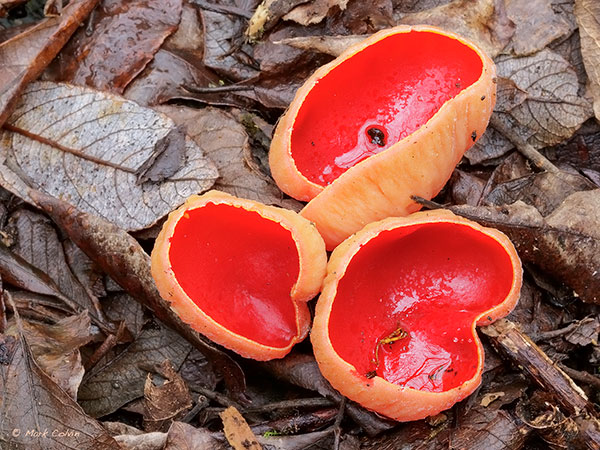 Scarlet Elfcap, Monkmead Wood, West Sussex (26 February 2017) Photo: Mark Colvin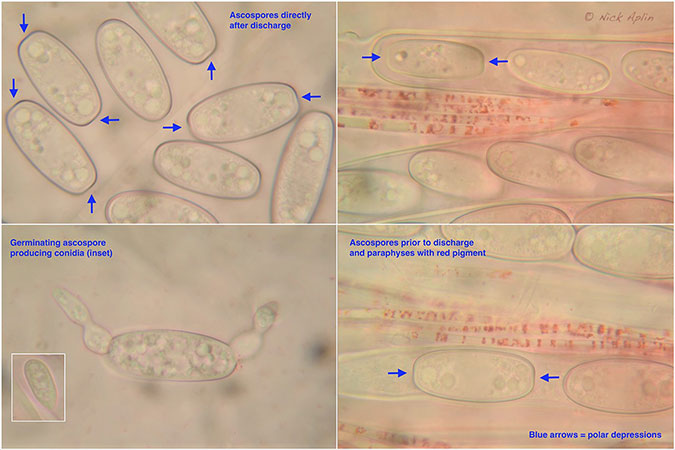 Photo-microscopy images of Sarcoscypha austriaca ascospores
Habitat and distribution
Sarcoscypha austriaca or Scarlet Elfcup is a widespread species that likes damp woodland with Salix and Alnus and is often found on moss-covered logs of these species near standing water. Unlike many of the other larger more colourful fungi, this species starts to appear at the beginning of the year and tends to reach full maturity in late February to March.
Similar species
There are several very similar species in the genus which can only be separated with microscopy:
S.coccinea is much more uncommon it was the sole species included in a field guide popularly used in the 1990s and this has probably skewed the UK records somewhat. There are few county records and clarification is needed to determine whether this species can currently be found in Sussex.
S.jurana is only known from a couple of (dubious) early UK records. It should be looked for in Sussex wherever Tilia is present, as this is its preferred substrate.
Without microscopy,
Sarcoscypha
collections should be submitted as
Sarcoscypha
sp. or
Sarcoscypha
cf.
austriaca
. Fresh collections for species determination are welcomed and can be sent to:
N. Aplin
21 Shetland Close
Pound Hill
Crawley
West Sussex
RH10 7YZ
February: Brown Hairstreak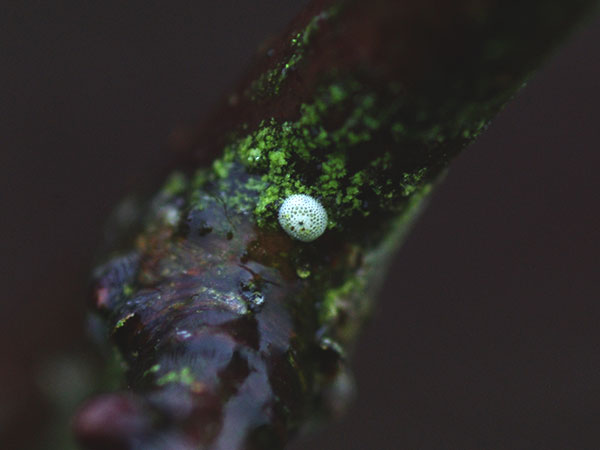 Brown Hairstreak egg photographed at Woods Mill in January 2018
Now is the perfect time to search Blackthorn hedges for Brown Hairstreak eggs. We have more records of the eggs of this rare and elusive species in our database than we have for adults. They're quite easy to spot once you get your eye-in, brilliant white and pin-point size, they look like microscopic sea urchins when seen through a hand lens.
The female butterfly lays her eggs singly in the axil of the thorn and stem on scrubby Blackthorn bushes. They will usually be found no more than 1.5 m above the ground. It would seem that the butterflies are only interested in plants growing on Wealden Clay soils and to a lesser extent the Upper Greensand and Chalk formations. This geological preference limits the eastern extent of its distribution, Plumpton station being its most easterly outpost in Sussex.