Welcome to the Sussex Biodiversity Record Centre
Coronavirus: How SxBRC is responding


As of 17th March, SxBRC staff are working from home for the foreseeable future. We are putting systems in place to enable SxBRC to continue functioning as near normally as possible. However, there might be some disruption to our services - so please bear with us while we all get used to these new ways of working.
If you need to contact SxBRC, please send us an email. You can find all our email addresses on the team page. Our telephone system is not currently set up to work remotely, so we would ask that you don't phone.

Click here to access the NBN web page that collates published guidance from a number of organisations in respect of biological recording and survey work during COVID‑19 restrictions.
Welcome to the website of the Sussex Biodiversity Record Centre, one of the many local environmental record centres situated around the UK. We provide environmental information services encompassing biodiversity, geodiversity and other aspects of Sussex's natural capital. We cover the two counties of East and West Sussex, including Brighton & Hove, in South East England. We are a small but dedicated team of environmental data managers, naturalists and IT specialists.
The Sussex Biodiversity Record Centre is managed as a partnership project, hosted by the Sussex Wildlife Trust. Our partners include local planning authorities, government agencies, conservation bodies and other organisations which need access to up-to-date biodiversity information, such as water companies.
Sussex has a vibrant and energetic biological recording community with many independent recording groups and societies. By strengthening relationships with these groups, and the wider network of naturalists, ecologists and recording schemes active in Sussex, the Record Centre facilitates sharing of ever-greater amounts of biodiversity data.
Latest news
News from the 31st Sussex Biological Records' Seminar
24 February 2020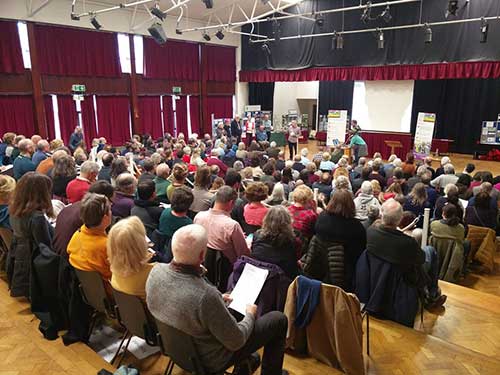 The crowd listen to another informative open mic slot after lunch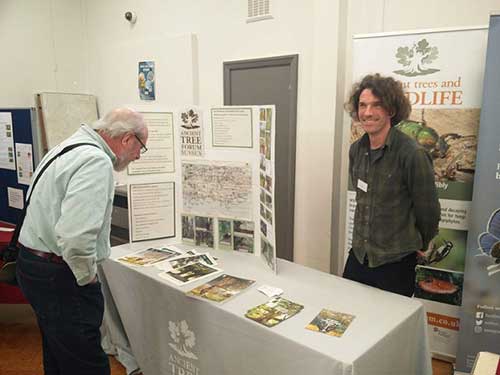 Sussex Ancient Tree Forum's stand full of information on Sussex ancient trees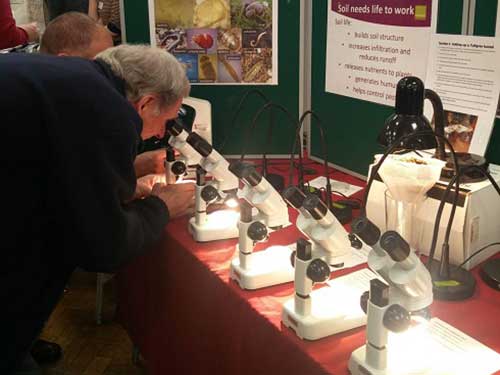 Dr. Matthew Shepherd brought along soil animals for everyone to view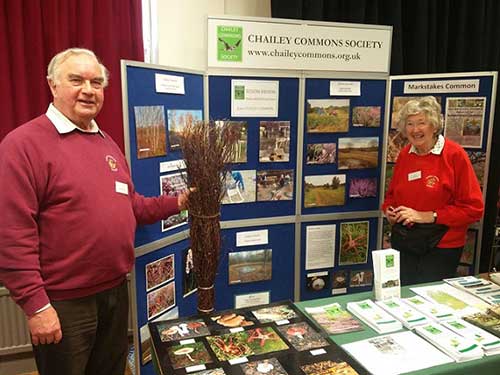 The Chailey Commons Society show off their broom!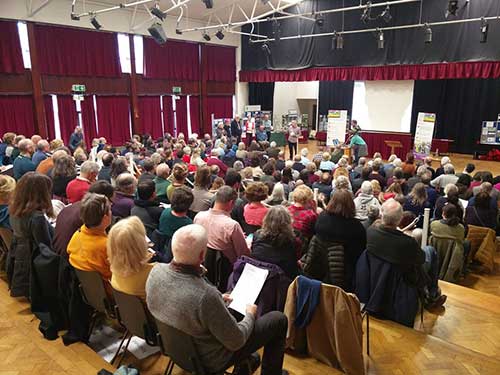 The crowd listen to another informative open mic slot after lunch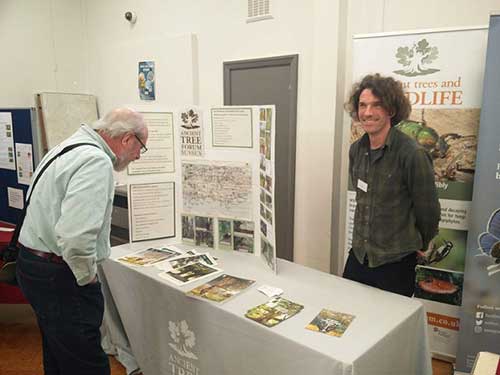 Sussex Ancient Tree Forum's stand full of information on Sussex ancient trees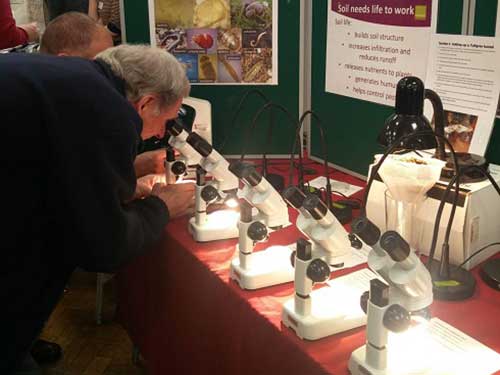 Dr. Matthew Shepherd brought along soil animals for everyone to view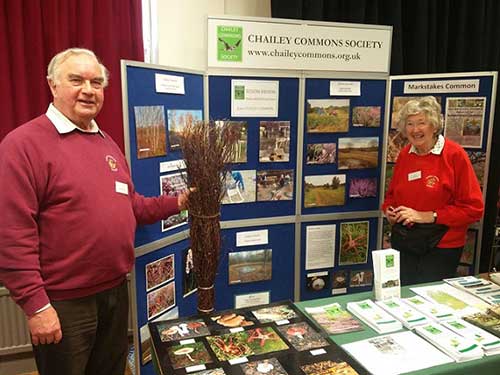 The Chailey Commons Society show off their broom!
The seminar opened with Sussex Wildlife Trust's Michael Blencowe giving an introduction to the day and speakers, followed by SxBRC manager Clare Blencowe with the highlights from the 2019 Adastra publication - (which is now available to view online).
The first talk was from Dr. Matthew Shepherd of Natural England on soil biodiversity and invisible wildlife found in soils. Crowd favourites included space tardigrades, and mites with mites (with mites!). He then talked about the importance of soil conservation and how changing land use can affect the species found within soils.
Rachel Bicker and Susie Howells spoke next about recording at Moulsecoomb Forest Garden, a charity garden and outdoor education facility in Brighton. In 2018 the project started recording wildlife and running recording events on site, hosting events like moth mornings, bat walks and RSPB garden birdwatch for the local community. They are keen for other recorders and groups to go along to the site and help build the species list.
After the break John Walters talked about his voyage of discovery researching the Heath Potter Wasp, with beautiful illustrations and fascinating insights into the lives of these insects.
Chairman of The Conchological Society of Great Britain and Ireland and local Mollusc recorder, Dr. Martin Willing, then presented a journey through the creation of new coastal habitats at Medmerry, the UK's largest sea defence scheme, and its developing molluscan interest with his predictions for future species we might find there.
After a vegetarian buffet lunch and a look round the informative stalls - including Matthew Shepherd's microscopes to view soil mites and tardigrades, some lovely displays from local groups and Sussex projects - James Power gave us 10 notable Sussex bees and wasps in 10 minutes, with highlights including the Red-tailed Mason Bee which nests in empty snail shells, and the Five-banded Weevil Wasp which was recorded new to Sussex by James in 2019.
Dr. Barrie Watson followed on with news of the new Barn Owl Study Group, setting out the history of Barn Owl recording in Sussex and its challenges, and how to get involved in the project.
Helen Proctor from Sussex Botanical Recording Society talked about the impressive work of the Sussex Churchyard Survey over the last few years, with the challenges involved in surveying these sites (like tightly mown grass!) and some interesting findings on species richness in medieval churchyards vs Victorian, and how management is crucial to maintaining their biodiversity interest.
Phillip Briggs from the Bat Conservation Trust gave a talk on the National Bat Monitoring Scheme with a great overview of the bat diversity and recording effort in Sussex, and the different kinds of surveys to get involved in. There was also information on new developments in bat recording with audio devices such as the 'AudioMoth' which will provide robust trend information for bats in the UK.
Finally Graeme Lyons, County recorder for Spiders, gave a talk on his year 'listing' spiders, many of which hadn't been recorded in Sussex in the last 50 years. He described how spiders are quite particular in terms of the structure and temperature of habitats they favour. Several Sussex nature reserves were found to be home to many notable spiders. Graeme also highlighted the British Arachnological Society as a great source of information about spiders and spider recording.
After some quick 'thank yous' to everyone involved in organising the day (when we forgot to mention our wonderful car-park volunteers, and our compère Michael - THANKS!) it was time for everyone to head out into the wind and rain of Storm Dennis and get themselves safely back home.
Thanks to everyone that attended for such an inspiring day. If you have any comments or ideas for next year please email loismayhew@sussexwt.org.uk and please keep in touch via the
SxBRC newsletter and Twitter for biological recording news updates.
We look forward to seeing you again next February!