Welcome to the Sussex Biodiversity Record Centre
Welcome to the website of the Sussex Biodiversity Record Centre, one of the many local environmental record centres situated around the UK. We provide environmental information services encompassing biodiversity, geodiversity and other aspects of Sussex's natural capital. We cover the two counties of East and West Sussex, including Brighton & Hove, in South East England. We are a small but dedicated team of environmental data managers, naturalists and IT specialists.
The Sussex Biodiversity Record Centre is managed as a partnership project, hosted by the Sussex Wildlife Trust. Our partners include local planning authorities, government agencies, conservation bodies and other organisations which need access to up-to-date biodiversity information, such as water companies.
Sussex has a vibrant and energetic biological recording community with many independent recording groups and societies. By strengthening relationships with these groups, and the wider network of naturalists, ecologists and recording schemes active in Sussex, the Record Centre facilitates sharing of ever-greater amounts of biodiversity data.
Latest news
'Wild about Portsmouth' - how a HLF project could reveal new biological records for Sussex
27 November 2018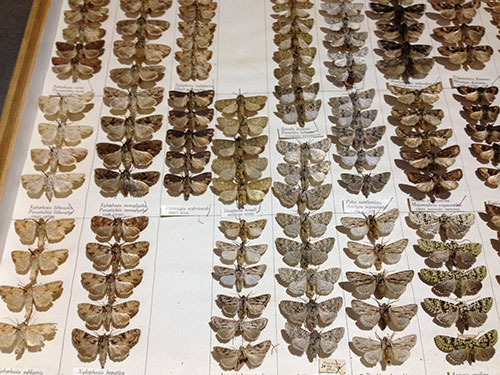 A drawer of Noctuid moths from the Guermonprez collection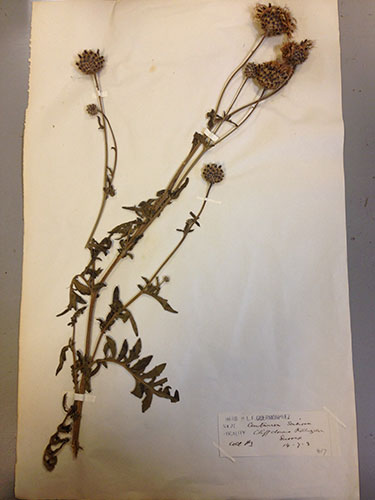 A specimen of Centaurea scabiosa from the HLF Guermonprez Herbarium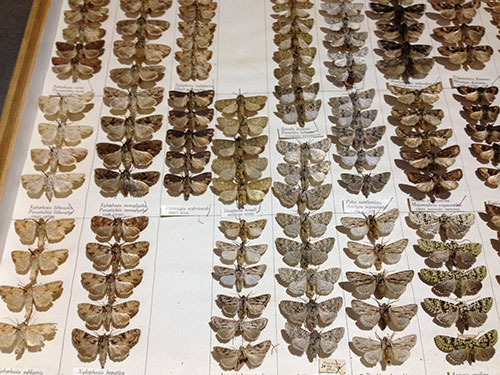 A drawer of Noctuid moths from the Guermonprez collection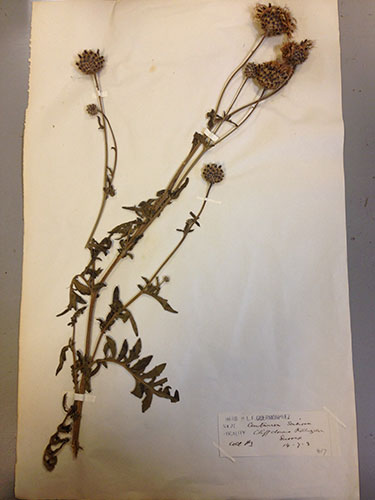 A specimen of Centaurea scabiosa from the HLF Guermonprez Herbarium
In March 2018 Portsmouth City Council was awarded a £79,700 grant to deliver the 'Wild about Portsmouth' project, aimed at raising the profile of the city's Natural History Collection, which had been without a curator for over 10 years.
The project has enabled the development of natural history advocates and a team of volunteers to work on and promote the collection, as well as engaging with people in a variety of ways, from family activities to specialist workshops.
Since May 2018, work has been made to gain an overview of the collections, appoint volunteers and an assistant (starting in January 2019) and sharing newly found collections knowledge with local and national societies.
The largest and most important collection is that amassed by HLF Guermonprez (1858-1924) who lived in Bognor Regis between 1892 - 1924. This collection was transferred to Portsmouth Museums in the 1970s where it is held in Trust.
HLF Guermonprez was an avid collector, and the scope of his collection certainly reflects his enthusiasm for Natural History. He confined most of this collecting to Bognor Regis and the counties of West and East Sussex, recording where and when he found each specimen. Although some of his work is mentioned in publications such as the Flora of Sussex (1937) and the occasional entomological journal, many of Guermonprez's collections remain under recorded.
Sussex biological specimens held in Portsmouth's Museums
Plants
There are about 9,000 plants collected by Guermonprez in the herbarium. To date 3142 have been identified as collected from Sussex. Other collections with Sussex specimens include the A W Westrup Herbarium, which contains 153 sheets of plants from Sussex, and the John Jenkins Herbarium.
Entomology Collection
The majority of the collection are Lepidoptera and mainly from the Guermonprez Collection. Work has started on cataloguing the moth collection and a first analysis of the 561 records forwarded to Bob Foreman has shown 'new spots on the map'. It is hoped that once the new 'Insect Room' is up and running, the moths and their data can be checked and added to the moth records for Sussex.
Taxidermy
There are about 800 taxidermy specimens in the Guermonprez Collection. Of these 116 are birds listed as being from Sussex over a date range of 1851 - 1925. The specimens from the mid-19th century, although part of the Guermonprez Collection, were previously in the Knight Collection. There are also a few small mammals collected in West Sussex.
Access to the Collections
At present the herbarium is the easiest collection to access and volunteers have been the key to organising the collection into taxonomic order. The insect collections are currently awaiting relocation so that they can be accessed more easily. They will be moved to their new location by the end of January 2019 and, once in place, it is hoped to appoint entomology volunteers to work through the insect collections and catalogue them.
By the end of the project in 2020 it is anticipated that the collections will be more readily available for consultation. Cataloguing projects will be driven by data requests and national recording schemes so that data can be shared more efficiently.
To arrange a visit to view the collections please contact the Curator of Natural History, Christine Taylor by email Christine.taylor@portsmouthcc.gov.uk
Christine Taylor
Curator of Natural History, Portsmouth Museums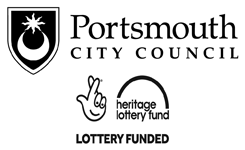 Another milestone
5 October 2018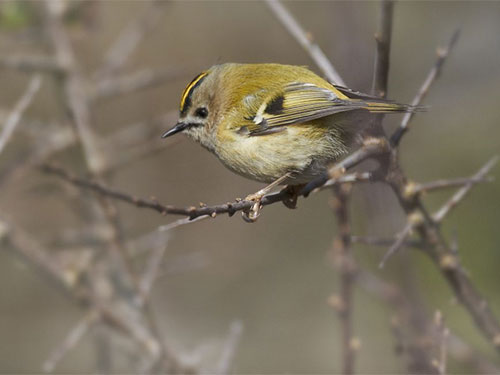 Probably not this actual one but possibly a friend or relative of record #7,000,000
Photo: ALAN PRICE, GATEHOUSE STUDIO/Sussex Wildlife Trust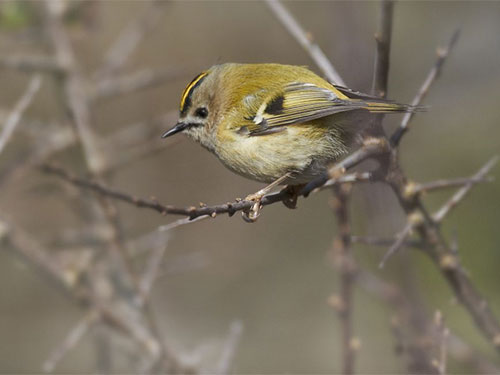 Probably not this actual one but possibly a friend or relative of record #7,000,000
Photo: ALAN PRICE, GATEHOUSE STUDIO/Sussex Wildlife Trust
The time has come for the SxBRC to a bit more honking of its own horn. On 25 September at 10:01am the number of species observations in the SxBRC's database reached the 7,000,000 mark. This was thanks in no small part to the Sussex Ornithological Society which had, a few days earlier, sent us with the annual "bird migration" and it was during the import process of these quarter million records that the 7,000,000 threshold was crossed. The actual record, the one that became the seven millionth, was of a Goldcrest that was seen in the Pannel Valley Nature Reserve in the far east of East Sussex at Icklesham on 6 January 2017. Of course, it is purely coincidence that this record should be a bird, it could quite easily have been any one of the 21,821 different species from the 1,712 families for which we have records in the database. For every square kilometre of Sussex we hold, on average, more than 1,840 records and it is the entire Sussex biological recording community that we have to thank for these records which allow us to report so comprehensively and thoroughly about the wildlife that occurs in any part of Sussex.