Welcome to the Sussex Biodiversity Record Centre
Welcome to the website of the Sussex Biodiversity Record Centre, one of the many local environmental record centres situated around the UK. We provide environmental information services encompassing biodiversity, geodiversity and other aspects of Sussex's natural capital. We cover the two counties of East and West Sussex, including Brighton & Hove, in South East England. We are a small but dedicated team of environmental data managers, naturalists and IT specialists.
The Sussex Biodiversity Record Centre is managed as a partnership project, hosted by the Sussex Wildlife Trust. Our partners include local planning authorities, government agencies, conservation bodies and other organisations which need access to up-to-date biodiversity information, such as water companies.
Sussex has a vibrant and energetic biological recording community with many independent recording groups and societies. By strengthening relationships with these groups, and the wider network of naturalists, ecologists and recording schemes active in Sussex, the Record Centre facilitates sharing of ever-greater amounts of biodiversity data.
Latest news
Sussex Biological Records' Seminar 2019
21 February 2019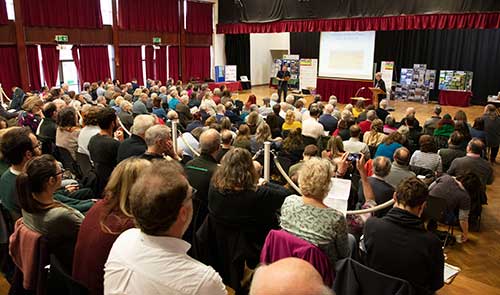 It was a full crowd on the day, with over 250 people in attendance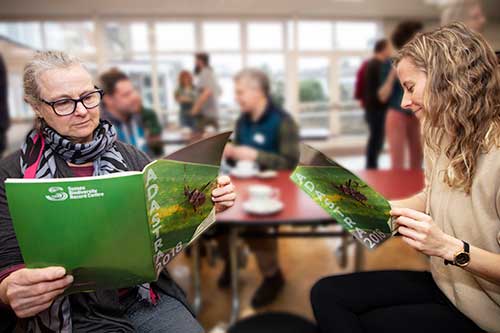 Immersed in Adastra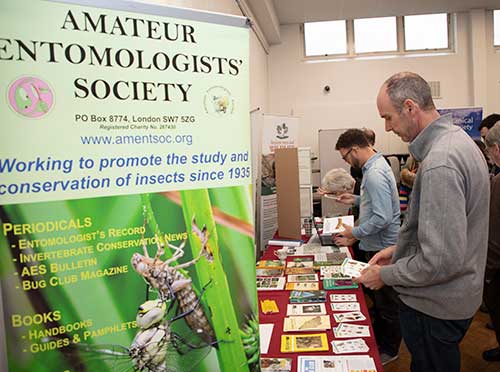 The A.E.S. stand being examined during one of the breaks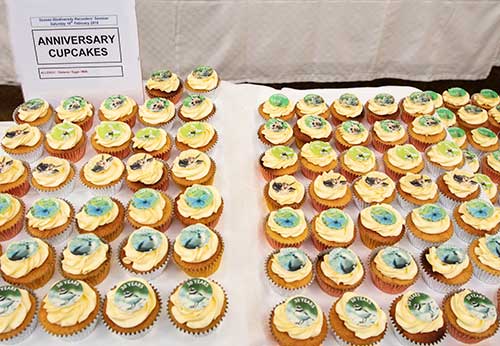 A small selection of the hundreds of Anniversary Cupcakes that were consumed on the day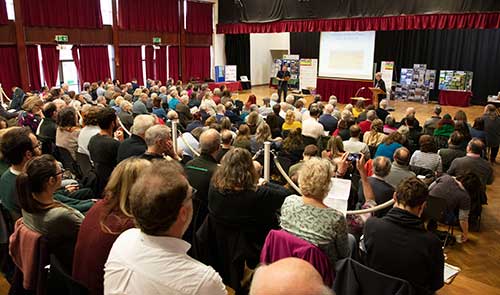 It was a full crowd on the day, with over 250 people in attendance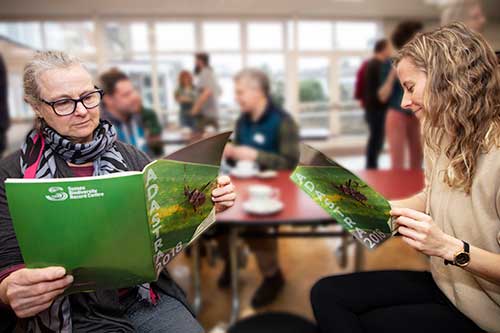 Immersed in Adastra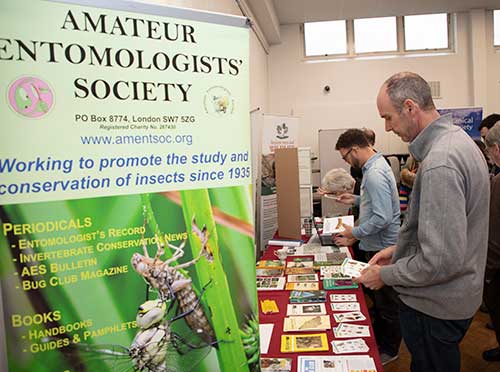 The A.E.S. stand being examined during one of the breaks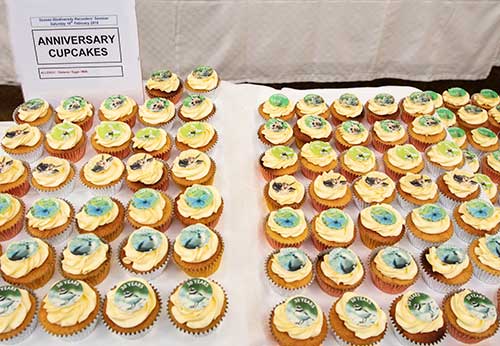 A small selection of the hundreds of Anniversary Cupcakes that were consumed on the day
The day began with an introduction from Sussex Wildlife Trust's Michael Blencowe, filling in for Clare who was suffering from a minor dose of food poisoning and not quite up to the challenge of MC-ing the day. Clare gave just a very brief introduction to the contents of the 2018 'Adastra' publication: the annual review of wildlife recording in Sussex, published by Sussex Biodiversity Record Centre. This year the publication has gone FULL COLOUR and Clare showcased a few highlights, including an article by Robin Crane on the origins of the Biological Recorders' Seminar - 30 years old this year!
Tony Whitbread was the first to speak, giving an insight into the early days of the Biological Recorders' Seminar back in 1990 and how, despite many mistakes in the beginning, the success of the seminar grew and grew to become the event we know now. Tony highlighted the importance of sharing our community's knowledge and experience of Sussex wildlife, and using this to help preserve species for future generations.
John Arnott, a volunteer with Chichester Harbour Conservancy, followed with a talk on the seals of Chichester Harbour. John explained how to identify seals and neatly summarised the research and monitoring that's been taking place, showing how seals use the harbours at Chichester & Langstone, and the Solent.
After a coffee break (with anniversary cupcakes!) and some time to look round the various stands, we were back with Martin Allison's fascinating talk on the fungi of Lullington Heath including fairy rings, waxcaps and things that grow on sheep dung. Steph Miles and Jenny Peach from Royal Botanic Garden Kew Millennium Seed Bank then introduced us to three major projects - UK Flora Project, UK National Seed Project and the UK Native Seed Hub. It was great to hear how RBG Kew are supporting various conservation projects in Sussex.
Over lunch, the hall filled with chatter, as people enjoyed the buffet lunch and refreshments provided by Diane and Harry's team from Veg Out catering.
Brad Scott then gave a talk about Bryophyte recording from 1721 - 2018, featuring the first known Sussex bryophyte record - Riccia fluitans - recorded by Johann Jacob Dillenius, and a short history of Sussex-based bryologists. The Sussex atlas project was initiated by Tom Ottley, with the aim to get 100 records per 1km square across Sussex. Good progress has been made across East Sussex where most society members live; progress in West Sussex is slower but there's considerable improvement and the species list for Sussex is ever growing.
Fran Southgate was delighted to share the news that otters are 'Here at Last' in Sussex. Her talk featured some lovely video footage of adult otters with young, showing us that they are now breeding in some areas of Sussex after a long absence. Fran went on to explain how to identify signs of otter, and how these differ from commonly confused species such as American Mink. Any possible otter sightings should be sent to bobforeman@sussexwt.org.uk for verification.
Daniel Watkins from the Sussex Local Wildlife Sites Initiative talked about his progress since starting as the Local Wildlife Sites Officer last June, with Henri Brocklebank of Sussex Wildlife Trust describing the process of forming the initiative and how important the biological recording community and Sussex's network of nature organisations are to the preservation of these sites.
After a final tea break, Björn Beckmann talked gave us an overview of the National Grasshopper Recording Scheme and how data collection works through iRecord. Ralph Hobbs, iRecord verifier for Sussex Orthoptera records, provided some additional local context. Björn then gave an insight into the uses of this data in his PhD, and the challenges of working with casual recording datasets.
Finally, Emma Sherlock, curator at the Natural History Museum and chair of the Earthworm Society of Britain, gave an introduction to the world of earthworms and the challenges of setting up a new recording scheme. Emma's brimming enthusiasm for these often over-looked creatures will hopefully inspire some folks to start recording earthworms in Sussex.
After a final list of 'thank yous' to all the speakers, organisers, caterers and attendees, it was all over for another year! The date for the next seminar will be announced through the SxBRC newsletter and social media channels in the summer, and we hope you can all join us next February!
The 30th Sussex Biological Recorders' Seminar is now fully booked!
12 December 2018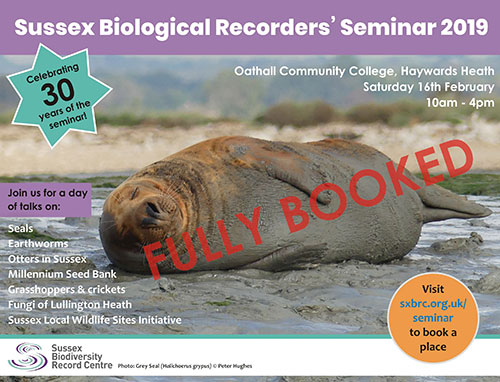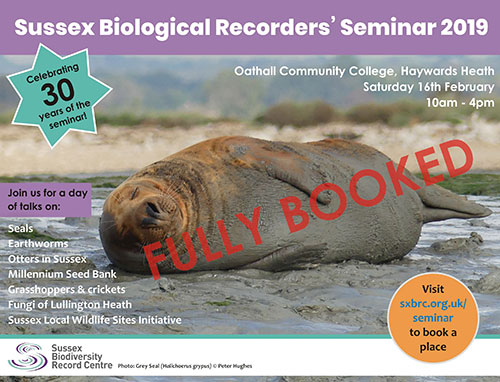 Join us from 9:30 am on Saturday 16th February 2019 at Oathall Community College, Haywards Heath for a day of talks and chat.
We've got some great speakers lined up this year: Steph Miles and Jenny Peach from Royal Botanical Gardens Kew will be talking about UK seed conservation, and Bjorn Beckmann, from the Biological Records Centre at CEH, along with local entomologist Ralph Hobbs, will be telling us all about grasshopper recording in Sussex and across the UK.
We'll also have local mycologist Martin Allison speaking about the fungi of Lullington Heath; Brad Scott and Sue Rubinstein, from the South East Group of the British Bryological Society, on the Sussex bryophyte atlas; Fran Southgate from Sussex Wildlife Trust with an update on Sussex Otters; and John Arnott, a volunteer with Chichester Harbour Conservancy, talking about the Seals of Chichester Harbour - the only breeding population of Common Seals in the eastern side of the English Channel.
Emma Sherlock from The Earthworm Society of Great Britain is coming to give an insight into recording earthworms in the UK, and Henri Brocklebank, from Sussex Wildlife Trust, and Dan Watkins, from the Sussex Local Wildlife Sites Initiative, will be giving us an update on a new partnership project focusing on Sussex Local Wildlife Sites.
We're very pleased that Tony Whitbread, organiser of the first ever seminar in 1990, will also be joining us and sharing his thoughts on 30 years of the Sussex Biological Recorders' Seminar and the impact that biological recording has had on nature conservation in our county.
There will be the usual stalls from local recording groups and societies and a plentiful supply of tea and biscuits! We're asking for £4 to attend, and an optional £8.95 if you'd like the delicious vegetarian buffet provided by Veg Out catering.
You can book your tickets online - please email loismayhew@sussexwt.org.uk if you have any questions.
We hope to see you there!