Welcome to the Sussex Biodiversity Record Centre
Welcome to the website of the Sussex Biodiversity Record Centre, one of the many local environmental record centres situated around the UK. We provide environmental information services encompassing biodiversity, geodiversity and other aspects of Sussex's natural capital. We cover the two counties of East and West Sussex, including Brighton & Hove, in South East England. We are a small but dedicated team of environmental data managers, naturalists and IT specialists.
The Sussex Biodiversity Record Centre is managed as a partnership project, hosted by the Sussex Wildlife Trust. Our partners include local planning authorities, government agencies, conservation bodies and other organisations which need access to up-to-date biodiversity information, such as water companies.
Sussex has a vibrant and energetic biological recording community with many independent recording groups and societies. By strengthening relationships with these groups, and the wider network of naturalists, ecologists and recording schemes active in Sussex, the Record Centre facilitates sharing of ever-greater amounts of biodiversity data.
Latest news
Adastra 2021
8 April 2022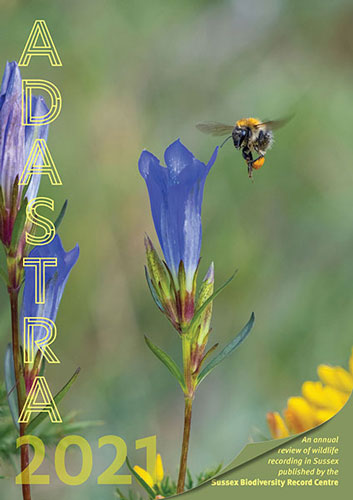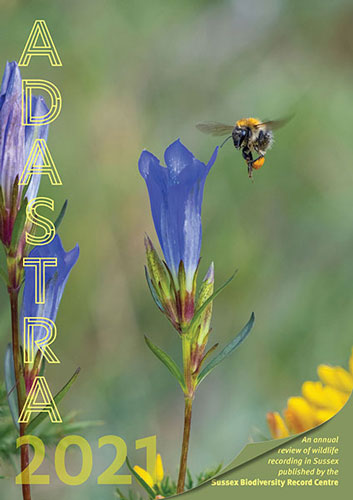 We are delighted to present Adastra 2021 - the annual publication written by the Sussex biological recording community and compiled by SxBRC.
In this year's edition we have updates from local recording groups and county recorders for everything from mammals to beetles and bryophytes, and many (many!) more. There's news on species new to Britain, local recording and atlas projects, and new Sussex recording initiatives which we hope will inspire you to get out and record, join in with a new group, or start your own project.
This year's feature articles include a round-up of monitoring and recording on Sussex Wildlife Trust Reserves by ecologist Glenn Norris and reserve warden Chris Bentley, Simon Young's recording project in the woodlands of Fairlight, and a write up by Evan Jones on the Pevensey Farmer's recording day that took place in June 2021.
A heartfelt thank you to all our contributors who make this annual publication possible. We hope you enjoy reading it.
The SxBRC Team