Welcome to the Sussex Biodiversity Record Centre
Welcome to the website of the Sussex Biodiversity Record Centre, one of the many local environmental record centres situated around the UK. We provide environmental information services encompassing biodiversity, geodiversity and other aspects of Sussex's natural capital. We cover the two counties of East and West Sussex, including Brighton & Hove, in South East England. We are a small but dedicated team of environmental data managers, naturalists and IT specialists.
The Sussex Biodiversity Record Centre is managed as a partnership project, hosted by the Sussex Wildlife Trust. Our partners include local planning authorities, government agencies, conservation bodies and other organisations which need access to up-to-date biodiversity information, such as water companies.
Sussex has a vibrant and energetic biological recording community with many independent recording groups and societies. By strengthening relationships with these groups, and the wider network of naturalists, ecologists and recording schemes active in Sussex, the Record Centre facilitates sharing of ever-greater amounts of biodiversity data.
Latest news
Sussex Biological Recorders' Seminar 2020
10 December 2019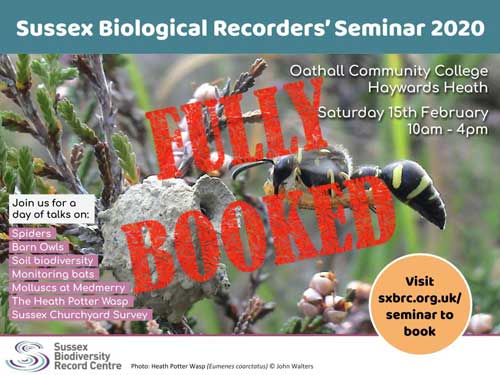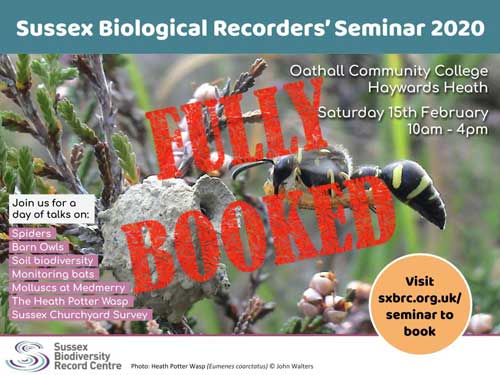 Booking for the 31st Sussex Biological Recorders' Seminar is now closed.
Join us from 9:30 am on Saturday 15th February 2020 at Oathall Community College, Haywards Heath for a day of talks and chat.
We've got some great Sussex talks this year, from Martin Willing on monitoring the changing molluscan fauna of Medmerry, and Helen Proctor from Sussex Botanical Recording Society on their churchyard recording project. We're also pleased to have entomologist and artist John Walters talking about the Heath Potter Wasp, a fascinating look at the world of soil biodiversity by Matthew Shepard, and Philip Briggs on the National Bat Monitoring Programme. Graeme Lyons will be sharing the joy of recording spiders (at the end, so any arachnophobes in the audience will have a chance to slip away quietly), and there will be some short talks on the newly formed Barn Owl study group by Barrie Watson and Rachel Bicker on a year of biological recording at Moulsecoomb Forest Garden.
There will be the usual stalls from local recording groups and societies and a plentiful supply of tea and biscuits! We're asking for £4 to attend, and an optional £9.25 if you'd like the delicious vegetarian buffet provided by Veg Out catering.
Travelling to the venue: There is ample parking on-site. Oathall Community College is a 12 minute walk from Haywards Heath rail station. The nearest bus stop is Summerhill Lane. There is also a covered bike rack for bicycles.
Accessibility: There is level access to the hall and an accessible toilet in an adjacent building.
If you have any issues with your booking, or would like more information about the event, please contact loismayhew@sussexwt.org.uk or phone on 01273 497554
We hope to see you there!
The SxBRC Team