Welcome to the Sussex Biodiversity Record Centre
How SxBRC is operating during the coronavirus outbreak


SxBRC staff are working at home for the foreseeable future. We have put systems in place to enable us to continue delivering the full range of SxBRC services, but some systems are running slower than they normally would. If you need to contact SxBRC, please send us an email. You can find all our email addresses on the team page. Our telephone system is not set up to work remotely, so we would ask that you don't phone.

Click here to access the NBN web page that collates published guidance from a number of organisations in respect of biological recording and survey work during COVID‑19 restrictions.
Welcome to the website of the Sussex Biodiversity Record Centre, one of the many local environmental record centres situated around the UK. We provide environmental information services encompassing biodiversity, geodiversity and other aspects of Sussex's natural capital. We cover the two counties of East and West Sussex, including Brighton & Hove, in South East England. We are a small but dedicated team of environmental data managers, naturalists and IT specialists.
The Sussex Biodiversity Record Centre is managed as a partnership project, hosted by the Sussex Wildlife Trust. Our partners include local planning authorities, government agencies, conservation bodies and other organisations which need access to up-to-date biodiversity information, such as water companies.
Sussex has a vibrant and energetic biological recording community with many independent recording groups and societies. By strengthening relationships with these groups, and the wider network of naturalists, ecologists and recording schemes active in Sussex, the Record Centre facilitates sharing of ever-greater amounts of biodiversity data.
Latest news
Tail of the unexpected
24 July 2020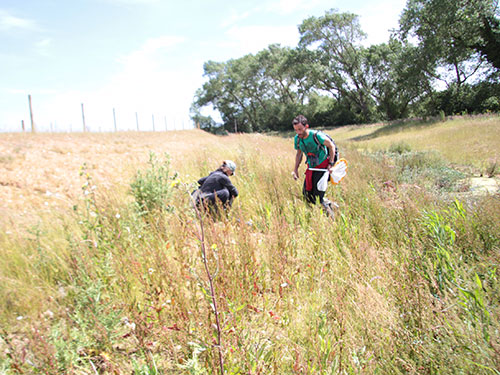 Laurie and Tom, mini-bioblitzing
at the EPIC Sompting site
Photo: Alistair Whitby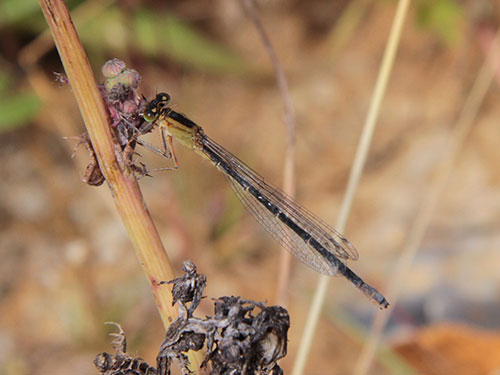 Female Scare Blue-tailed Damselfly
Photo: Alistair Whitby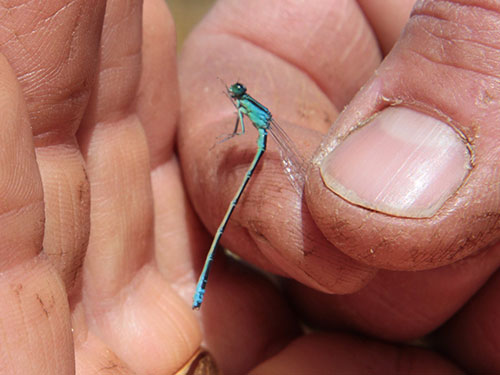 Male Scare Blue-tailed Damselfly
Photo: Alistair Whitby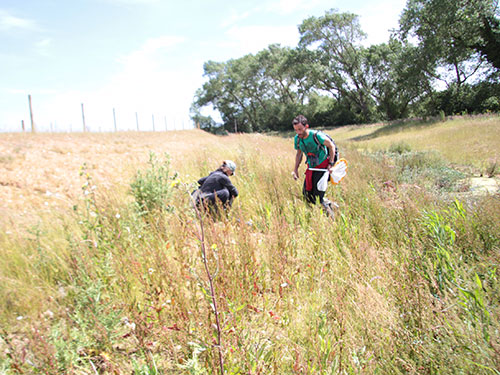 Laurie and Tom, mini-bioblitzing
at the EPIC Sompting site
Photo: Alistair Whitby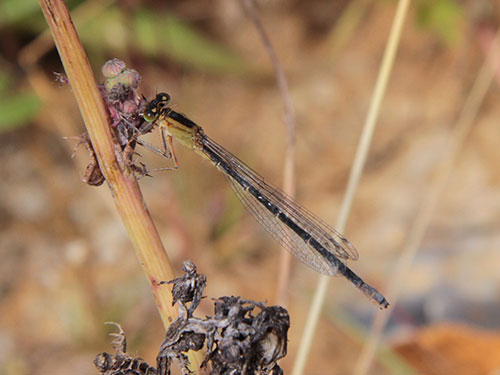 Female Scare Blue-tailed Damselfly
Photo: Alistair Whitby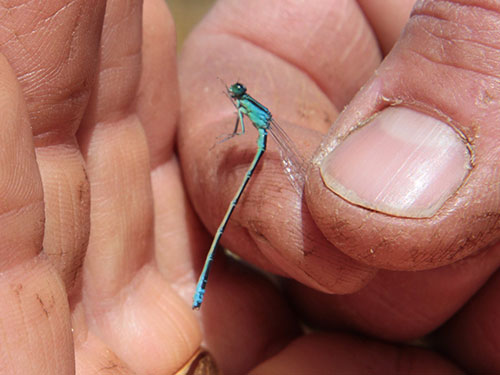 Male Scare Blue-tailed Damselfly
Photo: Alistair Whitby


A hot, sunny, breezy early afternoon on the banks of a stream restoration project in Sompting, was the scene of an exciting sweep netting incident on 19th June. Laurie Jackson and I had been invited to carry out a mini bioblitz at the EPIC Sompting site and working together with Alistair Whitby (OART project officer), socially-distanced of course, we were focussing on netting and ID'ing invertebrates along the newly formed and sparsely vegetated stream bank. Alistair netted a damselfly close to the warm shallow stream, which at first glance looked like Ischnura elegans, but lurking in the back of my mind was the need to double-check it and am I glad we did.
In the hand we examined the extent of blue on abdominal segments 8 and 9 and the pterostigma shape which seemed to be consistent with Scare Blue-tailed Damselfly (Ischnura pumilio) according to my British Dragonflies and Damselflies app (NatureGuides) and then frustratingly it escaped from the hand leaving us with only a couple of record shots and the feeling that this was a special find. There followed a weekend of running the photo by other experts online just to confirm the ID and consensus settled on pumilio - last recorded in Sussex 120 years ago!
The project, which has a strong volunteer focus, has been benefiting from regular Odonata survey visits by Dave Sadler, who was subsequently informed of this find. He then went to site (not currently accessible to public) to see if he could re-find the damselfly, which he did including several males and a female. One female has also since been found showing ageing consistent with ovipositing, so perhaps this is the start of an established Sussex colony. This species brought the site list up to 10 spp., which includes all the expected common Odonata and also Hairy Dragonfly.
To find out more about this project and follow developments please visit https://oart.org.uk/epic.
Tom Forward