Welcome to the Sussex Biodiversity Record Centre
Welcome to the website of the Sussex Biodiversity Record Centre, one of the many local environmental record centres situated around the UK. We provide environmental information services encompassing biodiversity, geodiversity and other aspects of Sussex's natural capital. We cover the two counties of East and West Sussex, including Brighton & Hove, in South East England. We are a small but dedicated team of environmental data managers, naturalists and IT specialists.
The Sussex Biodiversity Record Centre is managed as a partnership project, hosted by the Sussex Wildlife Trust. Our partners include local planning authorities, government agencies, conservation bodies and other organisations which need access to up-to-date biodiversity information, such as water companies.
Sussex has a vibrant and energetic biological recording community with many independent recording groups and societies. By strengthening relationships with these groups, and the wider network of naturalists, ecologists and recording schemes active in Sussex, the Record Centre facilitates sharing of ever-greater amounts of biodiversity data.
Latest news
A change of plan
17 December 2021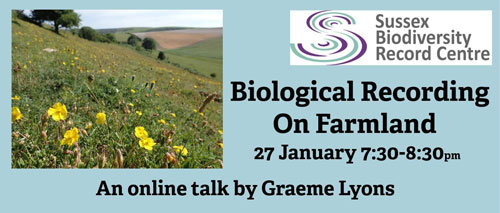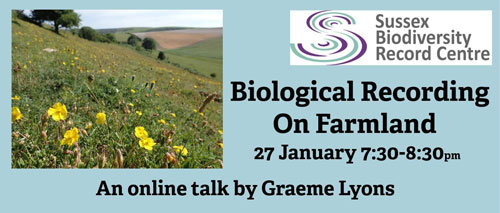 We were really hoping to hold a Sussex Biological Recorders' Seminar as normal in February 2022, but we couldn't find a way to make the event feel covid-safe and still provide the same experience to everyone, whether in-person or online. So we have made the decision that the February 2022 seminar will not be going ahead.
But don't despair! Through the end of January to March we'll be holding a series of Adastra-style online talks via Zoom that we hope you'll join us for. We're still ironing out the details, but forthcoming talks will include The Guermonprez Collection at Portsmouth Museum, an introduction to Craneflies, and DNA and Field Mycology. All talks will be free to attend.
Our first talk is by Graeme Lyons, independent ecologist and prolific pan-species recorder for Sussex (and beyond!), about his experiences carrying out farmland surveys and the incredible biodiversity that can be found there. Join us on Thursday 27th January at 7.30pm by signing up for the talk on Zoom, and stay tuned for a full schedule in January!
We're hopeful that conditions this summer will allow us to hold an informal recording event and a catch-up, so please save the date Saturday 2nd July 2022 for a coffee (and cake) and some recording at Oathall Community College, Haywards Heath and the nearby Scrase Valley Local Nature Reserve. The event will be free to attend.
More details will be announced in 2022.
Finally, as with last year, we have made the Adastra publication available to pre-order online ahead of publication at the end of February 2022. You will be able to access a pdf version free of charge on our website, and copies will be available to pick up at the event in July, but if you'd like a paper copy posted to you it is available from the Sussex Wildlife Trust shop for a contribution of £4 towards the cost of printing and postage.
You can read previous editions, including the 2020 edition, on the publications section of the SxBRC website.