August's species of the month: Silver-spotted Skipper Hesperia comma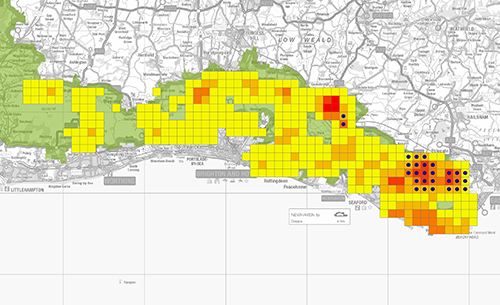 Heatmap of distribution of all Hesperia comma records - blue dots show 1km squares occupied between 1970 - 1990
Source: SxBRC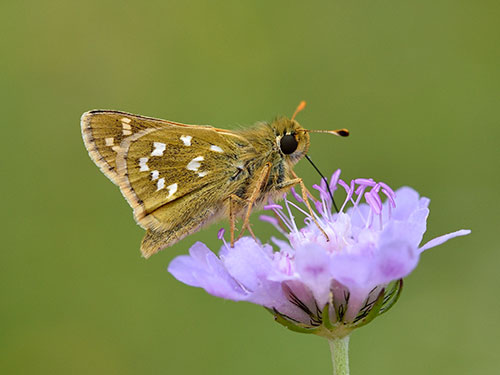 Silver-spotted Skipper, Cradle Valley
Photo: Bob Eade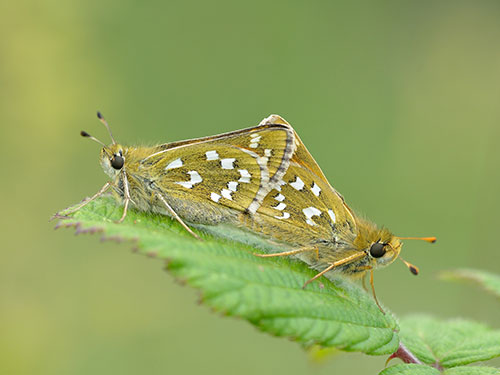 Mating Silver-spotted Skippers, Cradle Valley
Photo: Bob Eade
In the 1970s there was a distinct possibility that this heat loving species might become extinct in East Sussex. It was already, at this time completely absent from West Sussex. The only locations it could be seen were a couple of sites on the Downs east of Lewes. However, from this low point the butterfly has spread westwards, occupying most suitable habitat in East Sussex and as far west as Chantry Hill and Cissbury Ring in West Sussex.
Adults will only be active when the temperature is above 20°C and the females require a temperature of at least 25°C before they will lay eggs on the preferred larval foodplant, Sheep's-fescue Festuca ovina. Unsurprisngly, the hot, dry, close-grazed slopes of the downs are the butterfly's chosen habitat. The decline of the species to its 1970 low-point was undoubtedly as a result of scrub-encroachment and loss of rabbits and their grazing habits to myxomatosis. Its westward resurgence is, no doubt, a result of not only increased conservation grazing across the Downs, expanding the areas of suitable habitat but also climatic heating, which is in all probability the major factor.
One of the latest species to emerge, adults are normally first seen in mid- to late-July with numbers peaking in early August. Where it is present, this distinctively marked skipper can be seen in good numbers at this time of year (if maybe, a little difficult to spot owing to its size, high-speed flight and whirring wings). The best sites to see the species in Sussex are probably High and Over, Malling Down (in East Sussex), Newtimber and Wolstonbury Hills, Cissbury Ring and Chantry Hill in West Sussex but there are plenty of other suitable locations that it might turn up and all records of the species are particularly welcome, particularly via iRecord.
Text borrows heavily from The Butterflies of Sussex by Neil Hulme and Michael Blencowe
Previous species of the month:
Every month it is our aim to highlight a species that is "in-season" and, although not necessarily rare or difficult to identify, has been highlighted by our local recording groups as being somewhat under-recorded and for which new records would therefore be welcomed.
If you or your recording group are aware of species such as this then please contact Bob Foreman.