December, 2021's species of the month: Buff-tailed Bumblebee, Bombus terrestris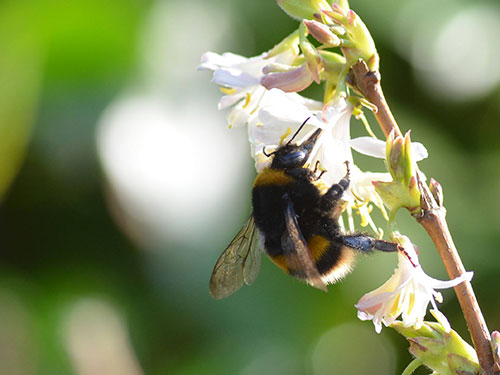 Buff-tailed Bumblebee, Bombus terrestris on winter flowering honeysuckle
Photo: Becky Walton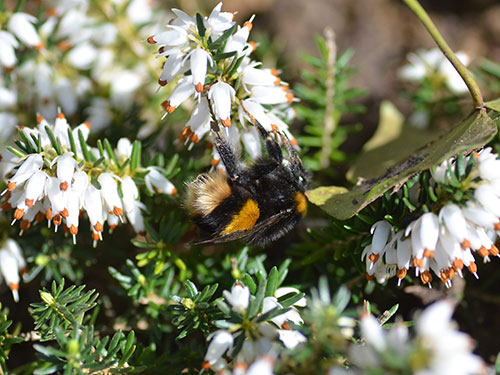 Buff-tailed Bumblebee, Bombus terrestris on Erica carnea
Photo: Becky Walton
The Buff-tailed Bumblebee Bombus terrestris is the perfect species to look out for at this time of the year; here, in the south, it has started to remain active throughout the winter, establishing nests and colonies, and foraging even on very cold days. You can often spot Buff-tailed Bumblebees visiting winter-flowering garden plants like Mahonia, Sarcococcus and Winter-flowering honeysuckles and heathers, and these plants are therefore great floral additions to any wildlife garden, helping to support a number of winter-active flower visitors. It is only the very distinctive queen that has a buff-coloured tail, and this and her larger size make her easy to identify, but she shares her yellow collar and abdominal hair band with the white-tailed males and workers. While the shade of yellow varies across the castes, from the dark, almost brown-yellow queens to the brighter workers, B. terrestris doesn't have the lemony yellow colouring of the White-tailed Bumblebee B. lucorum complex. Male B. terrestris often have a thin yellow-buff line at the top of the white tail, as do the workers sometimes, and this can separate them from the pure white tails of the White-tailed bumbleebee complex, but workers can be impossible to distinguish in the field, especially when faded. You may not know that our UK terrestris belong to the endemic 'buff-tailed' subspecies 'audax', one of several around the world.
The Bumblebee Conservation Trust has more detailed information on identifying Buff-tailed Bumblebees, and the Bees Wasps and Ants Recording Society (BWARS) has also established a winter bumblebees project, to learn more about distribution and foraging behaviour.
Please submit any sightings of Buff-tailed Bumblebees, with photos if possible to iRecord.
Previous species of the month:
Every month it is our aim to highlight a species that is "in-season" and, although not necessarily rare or difficult to identify, has been highlighted by our local recording groups as being somewhat under-recorded and for which new records would therefore be welcomed.
If you or your recording group are aware of species such as this then please contact Bob Foreman.