August, 2021's species of the month: Ashy Button, Acleris sparsana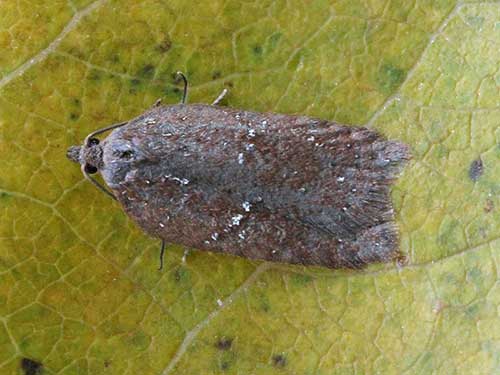 Acleris sparsana
"Typical" form.
Photo: Tony Davis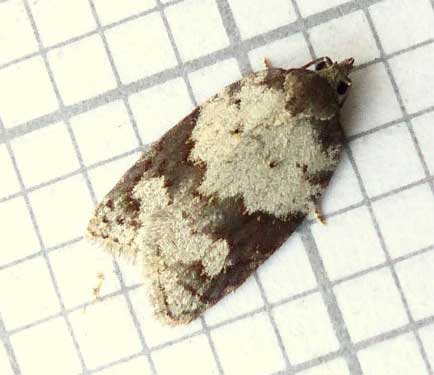 Acleris sparsana
"Extreme" form.
Photo: Derek Lee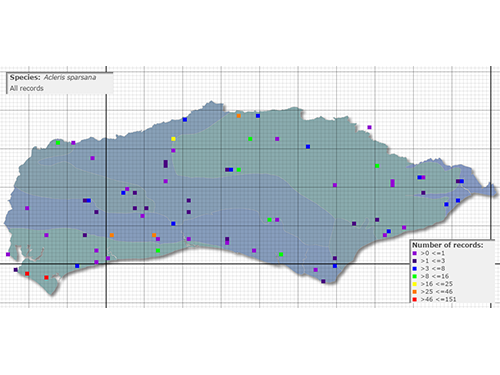 Distribution of Acleris sparsana in Sussex
Source: SxBRC/Sussex Moth Group
Acleris sparsana ([Denis & Schiffermüller],1775) - Flight Times and Voltinism Re-examined
I began recording moths in our Bracklesham, West Sussex garden when we moved there in 2010. The garden is situated about 1 km from the coast in a rural setting surrounded by farmland and paddock with a good variety of mature trees and hedgerows.
I am fortunate to be able to run two Robinson-type 125W mercury vapour traps in the garden and do so whenever the weather is suitable and to date I have a garden list of just over 1000 lepidoptera species.
Amongst all of these species one which is of particular interest is the Tortricid Acleris sparsana.
The UK Moths website describes Acleris sparsana as follows:
'Wingspan 18-22 mm. A variable species, sometimes with a distinctive triangular marking on the upperwing, but often with a greyish ground colour, obscurely marked with specks of darker and lighter.' The photos above demonstrate the variability of the species.
In the literature the moth is generally described as being 'single brooded, August to January, but has been found in February and March'.
For Sussex in particular Colin Pratt in his Complete History of the Butterflies and Moths of Sussex, 2011 remarked that reported sightings outside the flight period of September to January were likely to be erroneous. In his revised edition (2015) Pratt made reference to the change in circumstance brought about in particular by my Bracklesham sightings.
In Europe, reference to Razowski, 2002, this species is reported as being single brooded from August to April with a diapause during that period (10).
Over ten years have now elapsed since I began mothing here and as can be seen from Table 1 Acleris sparsana has continued to be recorded in my garden in two distinct appearances - the first from late June through to July or early August and the second from late August through to December. It can be seen that in the majority of years there is a gap of at least four weeks between the appearances.
Table 1: Acleris sparsana recorded at Clayton Lane Bracklesham - SZ808974 analysed by date of capture
Early emergence
Later emergence
Year
earliest
latest
max
total
earliest
latest
max
total
2010
09-Jul
01-Aug
3
4
17-Aug
08-Nov
4
16
2011
02-Jul
03-Aug
2
5
28-Sep
03-Dec
2
34
2012
13-Jul
01-Aug
2
6
06-Sep
16-Nov
5
22
2013
23-Jul
14-Aug
6
23
21-Aug
12-Dec
3
35
2014
07-Jul
11-Jul
1
2
27-Sep
22-Nov
4
25
2015
Not recorded
0
0
03-Sep
13-Jan
3
22
2016
17-Aug
17-Aug
1
1
25-Sep
26-Nov
7
23
2017
03-Jul
06-Aug
2
8
09-Sep
26-Nov
6
33
2018
24-Jun
22-Jul
8
29
11-Sep
05-Dec
9
33
2019
29-Jun
06-Aug
6
39
29-Sep
28-Nov
6
20
2020
23-Jun
16-Aug
4
32
28-Sep
22-Dec
7
55
The table shows the maximum numbers recorded on a single night ("max") together with the total individuals recorded in the year. I have over the years carried out genitalia determinations of a sample of the early emergence in order to satisfy myself that I was not mis-identifying another similar species.
With this in mind I decided to investigate whether my experience of this species was unique or whether it might be more widespread. To this end an initial database was obtained from the National Moth Recording Scheme. It quickly became clear that as yet the Scheme's records are incomplete or missing for some Vice-counties and thanks to contributions from a number of sources I was able to add in records from several of those that were missing ending with a database of more than 9,000 dated records for analysis featuring a total of almost 14,000 individuals. The vast majority of the records are from the 21st century with 60% arising within the last decade.
The subsequent analysis of the data showed that nationally the vast majority of appearances occur within the "normal" published flight times.
There have however been a not insignificant number of records in June and July. Then additionally, looking specifically at the records for August I found that approximately one-third were dated in the first half of the month, again before the accepted flight period was due to begin. In fact adding together the records for June through to mid-August there are over 500 recorded instances or 4% of the total.
I then focused my research on to those case where for any particular site there might have been a regular instance of an early emergence equivalent to my experience at Bracklesham.
Here the evidence is much less telling although I did find a small number of sites which had reported a regular early emergence followed by a later emergence in the autumn - the RSPB reserve at Pagham Harbour in West Sussex only a few miles from my own reported similar behaviour from 2010 through to 2016 while sites in East Kent and South Hampshire had similar results.
The remaining records could be summarized as rather sporadic and isolated occurrences from a considerable number of sites throughout the UK.
Conclusions from this study can be drawn as follows:
In general Acleris sparsana does follow the flight times as published - emerging in late August and flying though to December then re-emerging in the spring finally disappearing by May although it is very rarely recorded after March.
There are exceptions to the flight time recorded throughout the UK with sporadic isolated reports of sightings from late June onwards and recorders should be aware of these exceptions to the accepted flight times.
In the south of England there have been a few cases where two distinct emergences have become a more regular feature.
Please submit any records of Acleris sparsana (with photos) to iRecord or email them to bobforeman@sussexwt.org.uk with the full details (these will also be passed to the County Recorder for Moths and Butterflies, Colin Pratt).
Derek Lee
References:
Pratt C.R., (2011), Complete History of the Butterflies and Moths of Sussex, Volume 1. Self published.
Pratt C.R., (2015), Complete History of the Butterflies and Moths of Sussex, Volume 4. Self published.
Razowski J., (2002), Tortricidae of Europe. Vol. 1: Tortricinae and Chlidanotinae, Slamka
This article is an adaptation of an article by the author published in The Entomologist's Record and Journal of Variation (available in Hard copy only)
Previous species of the month:
Every month it is our aim to highlight a species that is "in-season" and, although not necessarily rare or difficult to identify, has been highlighted by our local recording groups as being somewhat under-recorded and for which new records would therefore be welcomed.
If you or your recording group are aware of species such as this then please contact Bob Foreman.