March, 2020's species of the month: Urban gulls Larus sp.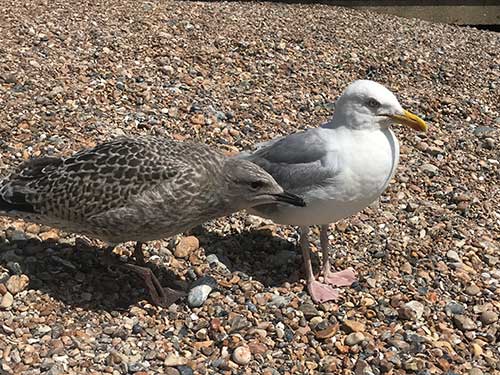 Juvenile and adult Herring Gulls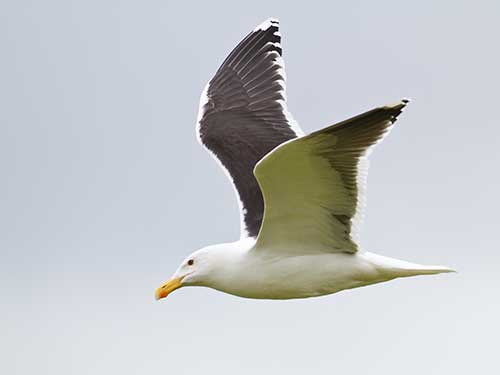 Lesser Black-backed Gull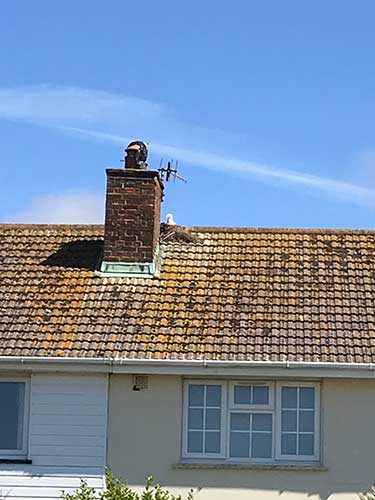 Typical urban nest location
Out for the count with census to safeguard seabirds
Gulls are a familiar and traditional part of life in seaside towns. Often unfairly maligned by day-trippers and coastal residents alike as noisy scavengers, populations of these most misunderstood of seabirds are in decline.
There have been three censuses of breeding seabirds in Britain and Ireland since 1969. The last one, Seabird 2000, was completed in 2002. These censuses, and regular counts at the large rural colonies, have shown that Herring and Lesser Black-Backed Gull populations have plummeted, to the extent that Herring gulls are now red-listed as 60% of the population has been lost since 1969. Lesser Black-Backed Gulls are amber-listed as their population has also seen declines.
However, these trends are based only on coastal colony counts as the first two national censuses did not cover inland or urban areas. Seabird 2000 was the first attempt to get a picture of the urban gull population, and although there were some gaps, the major areas were covered. But we do not know whether the declines in rural populations are caused in part by a shift into towns.
Given the time since Seabird 2000, it is important that another census takes place, and therefore, Seabirds Count was developed by the Seabird Monitoring Programme (SMP), and is being co-ordinated by the Joint Nature Conservation Committee (JNCC). Its goal is to gather data on numbers of breeding seabirds, with the aim of understanding how distributions and populations have changed. Survey work started in 2015, and is finished for open coastal areas. The gap that remains is to complete the survey of the urban breeding gull population.
In 2019, volunteers returned to urban areas covered by Seabird 2000 to see whether the numbers had changed. Brighton and Hove is a key area in Sussex for breeding gulls but it appears there has been a decline in numbers. 360 Herring Gull territories were recorded in Seabird 2000, but only 270 in 2019. However, it is not known whether this is due to a shift in distribution to parts of the city that were not surveyed. Anecdotally, it seems that the move to covered bins and house renovations removing chimney pots have had an impact, though if this means the gull population is as a level where it is in less conflict with residents, then this is perhaps not a bad thing.
The last phase of the urban gull census is to survey a set of randomly generated 1km squares. This is the focus of the 2020 breeding season and will enable a population estimate to be derived for the urban gull population for the first time.
The survey is simple - just one visit is needed to the survey square in late-April to late-May. The aim is to cover all the built up part of the square from the ground, and count birds incubating or holding territory. As it is difficult to see all birds from the ground, the SMP partnership has developed a correction factor for different types of urban area, which will be applied to reach a population estimate.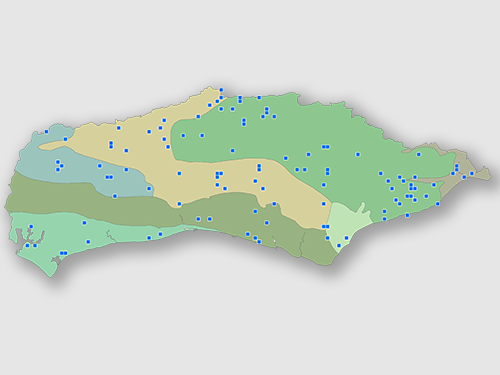 1km squares in Sussex that need surveying
(For full list click on link below)
There are 100 squares in East and West Sussex that need surveying ( download list here). If you would like to help, please get in touch with Alison Giacomelli ( alison.giacomelli@naturalengland.org.uk) with where you live, and she will match you up with a survey square. Thank you!
Previous species of the month:
Every month it is our aim to highlight a species that is "in-season" and, although not necessarily rare or difficult to identify, has been highlighted by our local recording groups as being somewhat under-recorded and for which new records would therefore be welcomed.
If you or your recording group are aware of species such as this then please contact Bob Foreman.