June, 2019's species of the month: Bird's-foot Clover, Trifolium ornithopodioides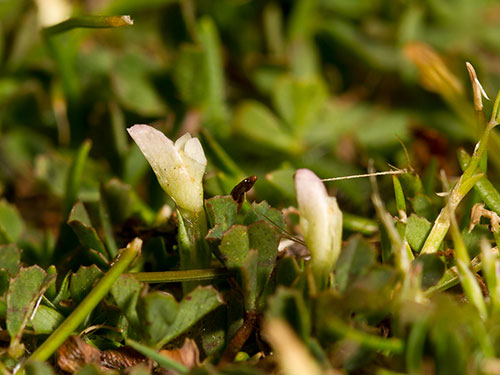 Trifolium ornithopodioides at Normans Bay
Photo: Evan Jones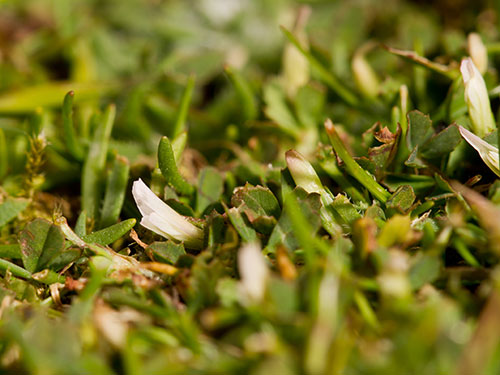 Trifolium ornithopodioides at Normans Bay
Photo: Evan Jones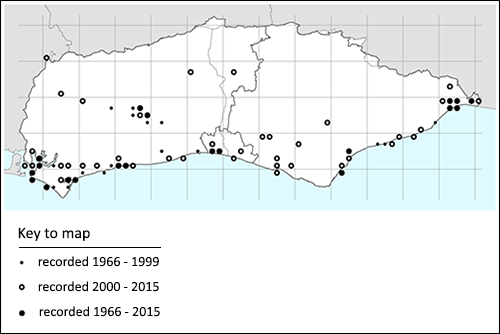 Map of Trifolium ornithopodioides records in Sussex showing predominantly coastal distribution.
Source The Flora of Sussex
It might not start flowering in June (modern reference books, such as Sterry (2006) & Harrap (2013), giving its flowering period as May to October and May to July respectively), but that is as good a month as any to look for Trifolium ornithopodioides (Bird's-foot Clover), a plant which is never obvious. A small, hairless annual which inhabits open dry ground and grassy places in coastal areas, it is very much a hands-and-knees species, often noticed only when the botanist stoops to pay closer attention to another low-growing if somewhat showier annual clover species, but rather charming in its tiny unobtrusive way, especially when viewed through a lens.
When it comes to summing up its jizz I can do no better than McClintock & Fitter (1955) who describe it as being rather like a hairless T.subterraneum (Subterranean Clover), and its flowers as resembling "teeth upright in the turf", though "milk teeth" or "fairy teeth" one would have to add! To be a little more technical, it is a prostrate plant with an inflorescence of 1-5 flowers (1-3 is more usual) which are white, often pale pink-suffused and 6-8mm long. They are carried on a stalk which is not as long as the trifoliate leaves. The leaflets are more or less wedge-shaped, rather coarsely serrated at the tips and 3-10mm long. The leaf stalk (petiole) can be up to 5cm long. It often occurs in small numbers (sometimes as single isolated plants), but last year I did see hundreds on a well-trodden track, and the tiny white flowers were the only things that stood out once you got your eye in. In grassier places the plant can lift off the ground slightly and look relatively "leggy" with the flowers very sparse on the delicate stem, which can grow to 20cm in length but is typically much shorter. The flowers go over quickly, especially in dry summers, to be replaced by fruits which unusually for a Trifolium are much longer than the calyx - a reminder that this species was once not classified as a Trifolium at all, but as a Trigonella.
I concur with the account in The Flora of Sussex (2018) which indicates that it might have been under-recorded in the past. Its true extent won't be revealed by serendipity of the sort already described, but by targeted searches, and June would be a good month to make them! As well as the dry, stony, gravelly ground and trodden tracks already mentioned, it can also occur on the well-mown, lower nutrient turf of road verges, bowling greens, playing fields, golf courses and in the worn, vacated turf of the touring sections of caravan sites. Although mainly on the coast, it is by no means strictly confined to it, being known for example on some of the heathy commons which lie to the north of the South Downs escarpment in West Sussex.
New records of this species would be gratefully received and should be sent to me at m.berry15100@btinternet.com, along with any images requiring confirmation. Good luck!
Previous species of the month:
Every month it is our aim to highlight a species that is "in-season" and, although not necessarily rare or difficult to identify, has been highlighted by our local recording groups as being somewhat under-recorded and for which new records would therefore be welcomed.
If you or your recording group are aware of species such as this then please contact Bob Foreman.