May, 2019's species of the month: The Spring Fritillaries (Boloria sp.)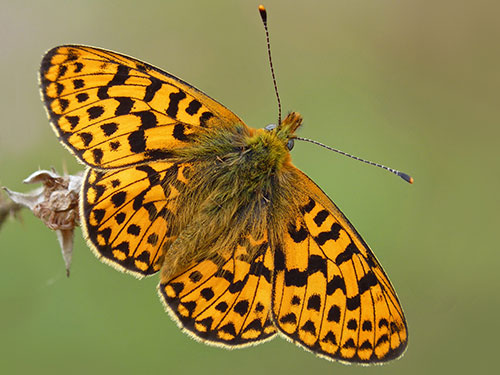 Pearl-bordered Fritillary (Boloria euphrosyne)
Upper-wings
Photo: Neil Hulme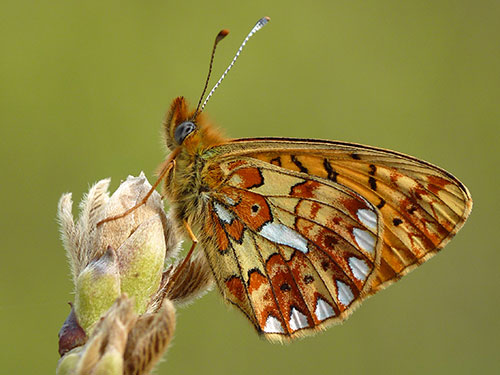 Pearl-bordered Fritillary (Boloria euphrosyne)
Under side
Photo: Neil Hulme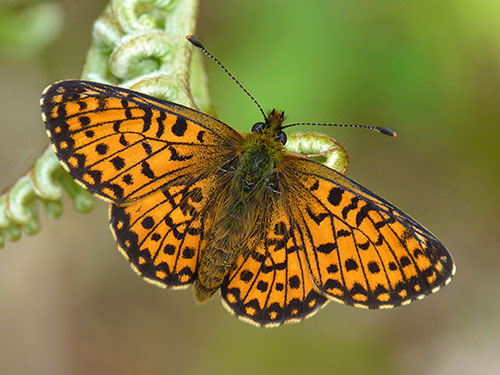 Small Pearl-bordered Fritillary (Boloria selene)
Upper-wings
Photo: Neil Hulme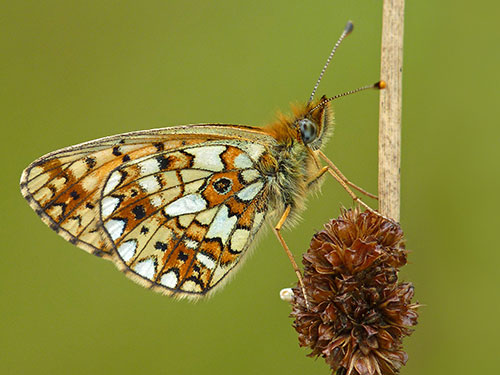 Small Pearl-bordered Fritillary (Boloria selene)
Under side
Photo: Neil Hulme
Sussex is currently blessed with approximately 50 species of butterfly, some of these are only occasionally observed scarce migrants, others are from well-established breeding populations. Among these species is a small group of predominantly woodland-dwelling nymphalids, the fritillaries. The Silver-washed Fritillary (Argynnis paphia) as a familiar sight in late summer when it is likely to be encountered flying at speed along the rides of most "good" woodlands. Slightly smaller than the Silver-washed is the Dark Green Fritillary (Argynnis aglaja), a species that can also be common in Sussex and although it will be seen in woodlands is more likely to be found flying in the flower-rich chalk grasslands of the South Downs during mid-summer. However, there are two species which are far less frequently seen; the Pearl-bordered (Boloria euphrosyne) and Small Pearl-bordered Fritillaries (Boloria selene). All four of these fritillaries have similarly patterned upperwings, deep orange with an array of black spots and stripes, their larvae all feed on violets too. Differentiating the latter two species is somewhat trickier though.
The Pearl-bordered Fritillary is a medium sized butterfly with blocky black spots distributed evenly over its orange-brown upper-sides. The underside of the hind-wing is reminiscent of a stained glass window, being divided into numerous polygonal cells, and edged with a string of seven silvery white 'pearls'. In all these respects it is very similar to the marginally smaller Small Pearl-bordered Fritillary.
The underside of the hind-wing in the Pearl-bordered Fritillary has a warmer look to it than that of its close relative, being a mix of earthy yellow and orange-brown. There are two silvery white polygonal cells in contact with the inner-central pentagon, which contains a small black spot.
The underside of the hind-wing in the Small Pearl-bordered Fritillary shows greater contrast, being a mix of cream and deeper red-brown. There are at least half-a-dozen silvery white polygonal cells in contact with the inner-central pentagon, which contains a significantly larger black spot. Also, the black lines which outline each polygonal cell are bolder in this species, and there are black spots situated inside the seven marginal 'pearls', adding to the greater contrast and generally darker appearance.
The most marked difference between these two species and their commoner relatives is the almost catastrophic collapse in their populations that has taken place in the south east of England in recent years. Of the Small Pearl-bordered Fritillary, Colin Pratt wrote the following in his 2011 county history: "For well over a 100 years, up until the mid 1970's, this butterfly could be found in most suitable woods from one end of the county to the other - approaching 150 colonies had been discovered". Throughout much of its long history here, it was more numerous than the Pearl-bordered Fritillary. The last Small Pearl-bordered Fritillary of Sussex descent ever to fly in the county was seen on 29 June 2013. At some point during the first week of July that year the species went extinct, both locally and regionally.
The Pearl-bordered Fritillary or the 'Woodman's Friend', as it was once affectionately known, was common in the days when many woodlands were actively worked for coppice products and charcoal. The butterfly would follow the woodman, as he moved around creating open areas in which the Common Dog-violet would flourish, until the canopy began to close again. In Colin Pratt's words: "Up until around the middle of the 20th century this Fritillary occurred in numbers undreamed of by modern butterfly enthusiasts; it could often literally be seen in hundreds and occasionally even in thousands". Butterfly Conservation's 'The State of the UK's Butterflies 2015', produced by Richard Fox and colleagues, points to a 95% drop in this species' national occurrence index (1km square occupancy) between 1976 and 2014.
As elsewhere, the population of Pearl-bordered Fritillary in Sussex has collapsed, and its geographical range contracted to just a few refuges. In recent years it has become restricted to just two strong population centres, at Rewell Wood in West Sussex, and Abbot's Wood in East Sussex, following a successful re-introduction.
Despite it becoming extinct in 2013 in south east England, the Small Pearl-bordered Fritillary is again flourishing in its last stronghold of Park Corner Heath and Rowland Wood thanks to a captive breeding and reintroduction programme carried out under the auspices of the 'Fritillaries for the Future' project led by Neil Hulme and involving a small group of dedicated volunteers. The breeding stock for this came from Bentley Wood on the Hampshire-Wiltshire border.
Although both of these species are known as woodland inhabitants, the Pearl-bordered Fritillary was once also to be found in more open habitats; heathland and more scrubby parts of the Downs. Compared to the Small Pearl-bordered Fritillary it has a definite preference for the warm, dry clearings created in coppiced of woodland. The Small Pearl-bordered Fritillary's habitat preference is for much damper woodlands with areas of standing water or permanently damp rushy rides. It is this preference that is thought to be a major factor in the species' decline in Sussex as Climate Change dies out our once damp woodlands.
Both of these species fly earlier in the year than their larger relatives, the Pearl-bordered being the first to appear, usually in late April through to early June, in the early part of the 20th Century there was occasionally a partial second brood in late summer. The Small Pearl-bordered Fritillary's flight period is about three weeks late than Pearl-bordered from mid-May through to the End of June, again with occasional partial second broods in August.
All records of these butterflies are particularly welcome and if you are luck enough to encounter either species please send the details either directly to bobforeman@sussexwt.org.uk at the SxBRC or enter them on iRecord.
Previous species of the month:
Every month it is our aim to highlight a species that is "in-season" and, although not necessarily rare or difficult to identify, has been highlighted by our local recording groups as being somewhat under-recorded and for which new records would therefore be welcomed.
If you or your recording group are aware of species such as this then please contact Bob Foreman.