Welcome to the Sussex Biodiversity Record Centre
Welcome to the website of the Sussex Biodiversity Record Centre, one of the many local environmental record centres situated around the UK. We provide environmental information services encompassing biodiversity, geodiversity and other aspects of Sussex's natural capital. We cover the two counties of East and West Sussex, including Brighton & Hove, in South East England. We are a small but dedicated team of environmental data managers, naturalists and IT specialists.
The Sussex Biodiversity Record Centre is managed as a partnership project, hosted by the Sussex Wildlife Trust. Our partners include local planning authorities, government agencies, conservation bodies and other organisations which need access to up-to-date biodiversity information, such as water companies.
Sussex has a vibrant and energetic biological recording community with many independent recording groups and societies. By strengthening relationships with these groups, and the wider network of naturalists, ecologists and recording schemes active in Sussex, the Record Centre facilitates sharing of ever-greater amounts of biodiversity data.
Latest news
Rare plant found in Darwell Reservoir
19 September 2019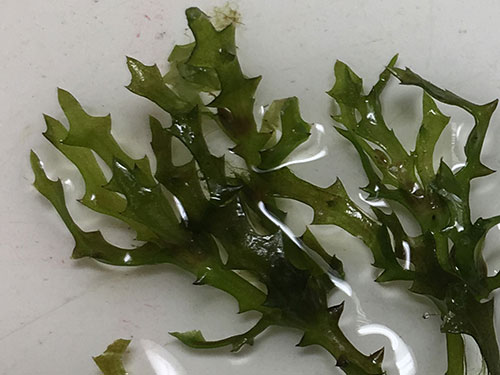 Holly-Leaved Naiad, Najas marina - close up of leaves and stem
Photo: Kathy Friend / EA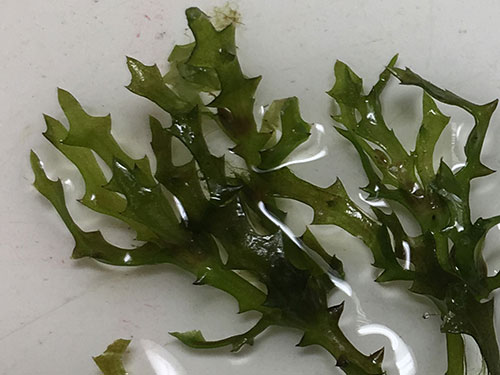 Holly-Leaved Naiad, Najas marina - close up of leaves and stem
Photo: Kathy Friend / EA
It is always exciting to receive reports of rare species being found in Sussex, especially when they are "county firsts". Often, these reports are of vagrant flying insects that have accidentally wandered across from The Continent or of obscure, difficult to identify organisms that unless examined by an expert are easily overlooked. Far more unusual is a previously unrecorded plant, and not microscopic one either.
Kathy Friend, a biologist for the Environment Agency, informs us that on 18 September while monitoring for the invasive freshwater shrimp Dikerogammarus, a team from EA took samples from Darwell Reservoir which contained significant quantities of the rare aquatic plant Holly-Leaved Naiad, Najas marina. This is the first time that the species has been recorded in East Sussex and only the second time it has been found in all of Sussex. The only previous records are from the Arundel WWT reserve where it was found in 2015. Normally only found in mesotrophic waters in the Norfolk Broads, this plant is designated as WCA Schedule 8 and Vulnerable on the GB Red List, it has declined significantly in its range in the 1960s as a result of pollution but recent work has helped to reverse that decline.
This distinctive looking plant is to be found rooted in soft silty sediments in clear, undisturbed waters, usually at a depth of between 0.5 and 1.5 metres. As it has been found at Darwell it is well worth looking at other similar water bodies for the plant, and if you do find it please send the details along with photos to us at the SxBRC.
Sussex Botanical Recording Society's Matthew Berry said, "One thing that does really fascinate me is the way it was discovered in this country by Arthur Bennett in 1883. Having made a comparative study of the Dutch flora and the flora of the "eastern counties", he deduced that one of the Dutch species which should also be found in the Norfolk Broads was Najas marina, and soon afterwards found it at Hickling - one of the most satisfying examples of predictive field botany I know of!"